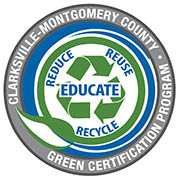 Montgomery County, TN – It was all things GREEN on Friday at the Clarksville 50+ Activity Center. Employees, members and guests celebrated St. Patrick's Day and a green ribbon cutting.
The ribbon cutting welcomed the Center as the newest Green Certified organization. City of Clarksville Mayor Joe Pitts, City of Clarksville Councilwoman Wanda Smith and City of Clarksville Councilmen Ron Erb and Travis Holleman attended the event along with Green Certification Board Members David Graham, Rose Melton, Gene Fish, Bill Harpel, Doug Jones and Haley Randell.
Carlye Sommers, the Clarksville Montgomery County Green Certification Program Manager, opened the event by thanking the Center for all of its hard work over the past year.
During that time, the Center employees and members have begun a recycling program, obtained an energy audit and are in the process of converting to energy saving LED lighting.
The Center also offers a weekly recycling class taught by Jayne Johnson that shows members how to repurpose and recycle household items into something new.
Janet Holleman, the Center's Marketing/Fundraising Coordinator, thanked the Center employees for their assistance in earning the Certification. Janet gave a special thanks to employee Audrey Field who is passionate about recycling and ensures that recyclables are removed from the trash. Mayor Pitts followed up Janet's remarks and thanked the Center employees and members for their commitment to Clarksville.
The Center offers a wide variety of services for older adults. Numerous classes and activities are available including Bingo, sewing classes, a walking program and dance instruction. An adult day center facility is also available onsite. Breakfast and lunch are served Monday through Friday in the Center cafeteria and if you are in need of medical screenings, such as blood pressure or glucose checks, those are available as well as many health education classes.
There is also a homebound phone reassurance program.. Located on the basement level of the Center you will find The Shoppe, a store containing a variety of items including clothing, household goods and personal care supplies. If you, or a loved one, are interested in learning more about the Center and the programs offered visit the Center online at www.ajaxturner.org or in person at 953 Clark Street.
If your organization would like more information on the Clarksville-Montgomery County Green Certification Program, contact Carlye Sommers at cmsommers@mcgtn.net or call 931.245.1867. You can also find information about the Program and the over 115 Green Certified businesses at www.mcgtn.org/green