APSU Sports Information

Clarksville, TN – Austin Peay State University (APSU) women's soccer head coach Naomi Kolarova has announced her recruiting class for the 2019-2020 season.
After losing 11 players following her first season in charge, Kolarova has brought in four transfers and six true freshman, including three international players.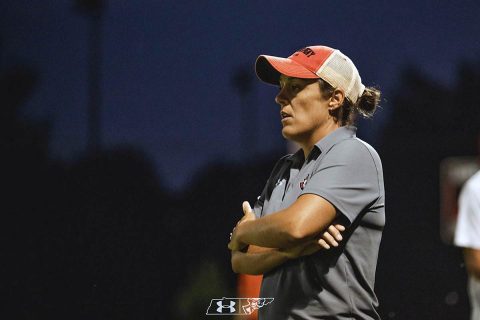 Chloé Dion, Goalkeeper, Mirabel, Québec, Canada
Chloé Dion, a goalkeeper from the French-speaking region of Québec, Canada, has the potential to be a quality starter for the Governors. Dion's club team was the Canadian national champions three years in a row from 2015-17 and she was part of the Québec Provincial Team for four seasons, including traveling to Belgium for a tournament.
Dion was also a member of Canada's National Training Center and was nominated for the Golden Glove in Québec, an award given to the best goalkeeper in the province. Dion attended Georges Vanier High School and had the best average of goals conceded in the league for three straight years (2015-17).
Kolarova's Thoughts On Chloé Dion
"Chloe will add depth to our GK position and is a constant worker. She is quick and agile, she is brave, and communicates constantly from the goal. We expect her to come in challenge our two returners for game time. As a staff, we all really look forward to working with a player with her 'tough as nails' mentality and positive hard-working attitude these next four years."
Karley Roberts, Defender, San Antonio, Texas
Karley Roberts is one of two players from Texas that will be joining the Govs in the fall. The San Antonio native attended Antonian College Preparatory High School, where she was named All-District and All-State all four years of her high school career.
She was also recognized as an Academic All-State Athlete in high school. Roberts played her club ball with Classics Elite in the Elite Clubs National League and also won a National Cup in 2015.
Kolarova's Thoughts On Karley Roberts
"Karley is a defender that we think can fit anywhere in the backline for us, as she is athletic as well as smart on the ball. She is a stubborn player who is determined to challenge everything and will aim to step into our program and make an impact straight away. We're excited to see her represent the Govs this fall."
Abigail Gemza, Defender, Rosholt, Wisconsin
Abigail Gemza, a Rosholt, Wisconsin native, will be Austin Peay's first player in 15 years from the Badger State (Jaclyn Lipovsek, 2004). Gemza attended Stevens Point Area Senior High, where she was named both Second-Team and First-Team All-Conference throughout her high school career.
She was also Second Team All-State and was the team's leading scorer for three of her four years. Gemza's club team advanced to the Wisconsin State Cup final and she was a member of Wisconsin's Olympic Development Program for five years. Her good performances in the ODP State Camp led her to receive two invites to attend the Region II ODP Camp, spanning 13 states across the Midwest.
Kolarova's Thoughts On Abigail Gemza
"Abby's a solid defender with vision and technical ability, she leads from the back and is a constant communicator. She is a fighter and not afraid to get stuck into a tackle. We're excited to add depth to our backline with her signing and look forward to seeing what she brings to the team in August."
Tara Mannix, Defender/Midfielder, Limerick, Ireland
Tara Mannix will be the second of three internationals to join the Govs next fall, as well as being the first Irish-born player in program history. Mannix, transferring from Limerick Institute of Technology, enjoyed a successful youth career with the Irish Youth National Teams.
She played on the Irish U15 Secondary Schools Team, before graduating to the full U16 and U17 teams and played in the U17 European Championship Qualifiers. Mannix is a versatile player, able to play in defense or in the center of midfield.
Kolarova's Thoughts On Tara Mannix
"Tara has the ability to play a couple of roles for us, both in defense and in midfield. She is a strong competitor, she wins balls in the air and is not afraid to put in a tough tackle. She is tactical and technical on the ball and we are excited about adding a player with her elite level experience to our incoming class."
Maeve Kelly, Midfielder, Nashville, Tennessee
Maeve Kelly, already on the campus of Austin Peay, is an upcoming junior transfer from Chattanooga, where she spent the previous two seasons and will have two seasons of eligibility remaining. Kelly played 35 games in her two seasons with the Mocs, starting 13 of those.
Kelly attended Franklin Road Academy, where she was a two-time Division II A East/Middle All Region player, leading the team to three Sub-State appearances. Kelly mainly played her club soccer at Tennessee Soccer Club, winning six state titles, a regional title, and a national title in 2017. Kelly also competed in track and field in high school, running the 200m and 400m dashes as well as doing the long and triple jumps.
Kolarova's Thoughts On Maeve Kelly
"Maeve has come and fit in immediately with our style of play as well as our group of players. She is a technical midfielder who sees the field really well, smart on the ball, and a great distributor from her central role. She's making an impact already this spring and has helped balance out the possession and ball movement style we have been working on, we're really glad she's joined us and look forward to seeing her continue to step up this coming fall."
Ellory Ferris, Central Midfield, Ellensburg, Washington
Ellory Ferris, along with Alexandra Maslowski, joins current players Morgan Drawdy and Kaylee Kraft as players who hail from the Pacific Northwest. Ferris is a transfer from North Idaho College, where she was a two-year starter and captain. She was named to the All-Region team her sophomore year at North Idaho.
Ferris enjoyed an illustrious club career, where she won the Washington State Cup four years in a row. Ferris also was successful playing for her high school, where she was team captain for her junior and senior years. She was named Player of the Year in her conference and also received First-Team All-League honors as a senior.
Kolarova's Thoughts On Ellory Ferris
"Ellory having 2 years of college soccer under her belt will be huge for our team after graduating so many seniors this past season. She adds experience and leadership to our program, as well as depth to our midfield. She is a tall, athletic player and is strong on the ball. She will also add excellent ball distribution attributes and tactical awareness to our midfield, and we're excited to have her."
Alexandra Maslowski, Central Midfield, Kent, Washington
Alexandra Maslowski joins Ferris as the second player from Washington in the class and the final transfer player. Maslowski was previously at Highline College, where she was a part of a team that reached the Northwest Athletic Conference semifinals.
In her prep career at Kentwood High School, she was a three-time Second-Team All-Area honoree and also received First-Team honors her senior year. Maslowski was part of a state champion club team and also helped her club to two Region IV Tournament appearances.
Kolarova's Thoughts On Alexandra Maslowski
"Lexi is another player with some college soccer under her belt that will add to our team's leadership and experience. She plays a CM role and we think she has a high level of awareness on and off the ball, as well as excellent decision making on the ball. She is very technical and we are excited to see what impact she has in our program next season."
Ellie Hawcroft, Midfielder/Forward, Barnsley, England
Ellie Hawcroft, a central midfielder who can also play in an attacking role, rounds out the international signings in Kolarova's class. Hawcroft attended Barnsley College and captained the England Colleges National Team. Led by Hawcroft, the team won the prestigious Calcio E' Rosa tournament in Italy. Hawcroft also plays for Sheffield Football Club, recognized by the governing body of the sport, FIFA, for being the oldest soccer team in existence.
Kolarova's Thoughts On Ellie Hawcroft
"Ellie brings some high level tactical, technical, and athletic attributes to our program from her midfield and forward positions. She is strong on the ball, a brilliant passer of the ball, and she can finish. We look forward to seeing what she can do for us and we expect her to compete with our returning group straight away for game time."
Jisela Dall, Winger, Rochester, New York
Jisela Dall joins the Govs a promising attacking option for the new campaign. The Greece Athena High School product was named All-County in three of her four years, while captaining the program her junior and senior seasons.
She was a member of New York's ODP program, winning a Region I championship twice. With her club team, Dall was a two-time Western New York Champion, a Region I US Youth soccer champion, and a two-time participant in the US Youth Soccer National Championship. Dall currently plays for the Western NY Flash in the ECNL.
Kolarova's Thoughts On Jisela Dall
"Jisela's a quick and hard-working wide player, as she constantly looks to get forward from both defensive and midfield positions. She is a positive person on and off the field and one that we see fitting into our team immediately. Her signing has added depth to our wide positions on the field. We are excited to see what she can do and how she will impact our team next year."
Celeste Espinoza, Forward, Midland, Texas
Celeste Espinoza rounds off the 2019 recruiting class for the Govs. Espinoza has had a unique career, with her high school not offering athletics. Instead, she honed her craft exclusively at the club level. Espinoza, along with Roberts and Dall, also played her club ball in the ECNL. Espinoza's D'Feeter Soccer Club currently sits in first place in the Texas Conference.
Kolarova's Thoughts On Celeste Espinoza
"Celeste is a smart and feisty forward, she gets stuck in and she works hard on and off the ball. She, like many other attacking players in our program, makes up for her size with an amazing work ethic and solid athleticism. We are excited to add another attacking player to the incoming group and look forward to watching her grow in our program."