Austin Peay State University (APSU)

Clarksville, TN – The Austin Peay State University (APSU) ROTC Ranger Challenge team arrived in West Point, New York, on Sunday, ready to compete in its first-ever Sandhurst competition.
"They're pretty motivated, and they think they're going to do really well, and I do too," Keith Colman, the team's coach, said. "They're real strong. They've been training hard for three months now."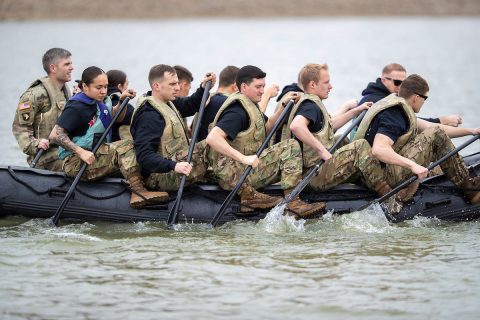 The Sandhurst competition, which is April 12th-13th, will put teams from throughout the world "to the ultimate test of endurance, leadership and military skills as they compete to earn the title," according to an Army news release.
Even though the actual competition starts on Friday, the stakes already are high. Teams will participate in a three-person relay on Monday night to determine their starting position on Friday.
"Teams will compete in what we are calling an order-of-march relay race," Maj. Travis Onischuk, officer-in-charge and lead planner for Sandhurst, said in an Army news release. "Each squad leader selects the three fastest members of their team to compete in a relay race. It will generate a rank of 1-49, and those teams will then be able to select their starting positions for Friday."
Austin Peay's team figures to perform well in the relay. Two of the team's members, Wesley Gray and Thomas Porter, are runners on the University's cross country team.
Training At West Point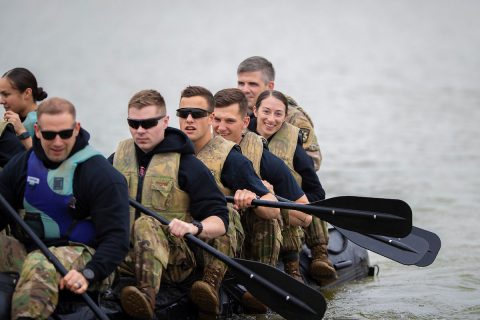 Austin Peay State University's team also will train Tuesday and Wednesday at West Point's obstacle course and shooting ranges and get a chance to practice on Zodiac boats, which the team isn't new to.
"We took advantage of our opportunity being near Fort Campbell to get a Zodiac to get in some practice prior to getting to West Point," Colman said.
Cadets also are taking part in the Modern War Institute's Sandhurst Conference in the days leading up to the competition.
APSU team captain Steven Price will receive a briefing about the competition Thursday night, and the competition starts 6:30am EDT Friday. The competition stretches through the night and ends Saturday afternoon.
The challenge requires 11-person teams – nine competitors and two alternates – to carry a minimum of 35 pounds throughout the course, which likely will surpass last year's 28-mile route.
Austin Peay faces tough competition. Last year's top five finishing teams return this year: the Air Force Academy team (which claimed the title), the Royal Military College-Canada, Sandhurst Red, University of North Georgia and West Point Gold.
APSU'S Cadets at Sundhurst
Team captain Steven Price, assistant captain Daniel Cole, Brandon Hagens, Brendan Dickinson, Kylie Head, Walter Higbee, Christina Taylor, Wesley Gray, Thomas Porter, Paul Kearney and Thomas Rose are the 11 Ranger Challenge cadets competing at West Point.
Who's Competing?
Austin Peay is one of 49 teams competing this year.
14 International Teams: Australia, Thailand, Canada, Colombia, Chile, Greece, Brazil, Japan, Germany, Mexico, Denmark, United Kingdom, Korea and United Kingdom.
16 ROTC Teams: University of Delaware, Florida State University, Creighton University, Central State University, Marquette State University, University of Hawaii, Austin Peay State University, Utah Valley University, California Polytechnic State University, Virginia Military Institute, John Hopkins University, Tarleton State University, Embry-Riddle Aeronautical University, Lehigh University, University of North Georgia and Ebinboro University.
Four service academies: 16 U.S. Military Academy teams, and teams from the U.S. Naval Academy, U.S. Air Force Academy and U.S. Coast Guard.
To Learn More