APSU Sports Information

Clarksville, TN – Hard to believe, but it's already been five weeks since the Austin Peay State University (APSU) football team began the first of 15 spring practices.
Thursday evening, April 11th, 2019 the Govs put a bow on their spring practices, marking the last time they will have full-on practice until fall camp begins in August.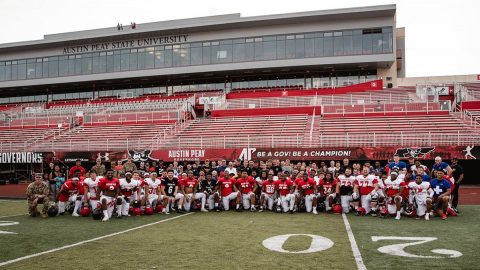 Take a look back at all the action from the first four weeks of spring ball:
Spring Practice Week 1 Rewind
Spring Practice Week 2 Rewind
Spring Practice Week 3 Rewind
Spring Practice Week 4 Rewind
Thursday marked the final practice of spring ball for the Governors, and it started with a special welcome to members of the military stationed at Fort Campbell and first responders from the area who joined the team for its final tune-up before the summer.
Though the plan had initially been to cap spring ball with the Red and White Spring Game, the spring game got moved up earlier and allowed the Govs to have three more practices to look at game-speed reps and make any corrections.
"It gives you a chance to clean some things up," head coach Mark Hudspeth said. "We would rather end with the spring game, but the schedule wouldn't allow it. You still were able to come back and get quality work in, which we were able to do and it still worked out fine."
Practice ended in celebration as Hudspeth let the team know that Friday's scheduled workouts were canceled as a reward for the hard work all spring.
Speaking of recognition for hard work, prior to the Red and White Spring Game, the coaches voted on the most valuable and most improved players on the field and in the weight room.
2019 Spring Awards
Most Improved Offensive Skill Player: Ahmaad Tanner
Most Improved Offensive Big: Bucky Williams
Most Improved Defensive Skill Player: James Tobin
Most Improved Defensive Big: Mason Harwell
Most Improved Special Teams Player: Devin Stuart
Most Valuable Offensive Skill Player: DeAngelo Wilson
Most Valuable Offensive Big: Blake Mitchell
Most Valuable Defensive Skill Player: Kordell Jackson
Most Valuable Defensive Big: Matthew Gayle
Most Improved Weight Room Skill Player: Justin Gibbs
Most Improved Weight Room Combo Player: Elijah Brown
Most Improved Weight Room Big: Seth Johnson
Most Valuable Weight Room Skill Player: Isaiah Norman
Most Valuable Weight Room Combo Player: Elijah Shepard
Most Valuable Weight Room Big: Marquise Griffin
The players also got an opportunity to vote for who has stood out to them to be the 2019 team captains. They chose offensive lineman Kyle Anderton, safety Juantarius Bryant, quarterback Jeremiah Oatsvall and linebacker Pat Walker.
Quoting the APSU Governors
On how he and the offense have progressed since the first practice:
"Offensively, I think we probably started at a one, and I think we got to about an 80. We still have about 20 percent left that if we can really buy in, get in our playbooks and just trust what these coaches are telling us, I think we can reach that 100 by the time the season hits. Me personally, I think I felt and got more comfortable with the system as the time went on. This is the kind of football and the kind of speed and pace I like to play with."
On being selected a team captain:
"That means a whole lot. This is my third season, and I feel like that means a lot to me that the team thinks highly enough of me as a leader to be voted a captain. I really hope I can continue my leadership on and off the field – me and the three other guys – and we can continue to push this team in the right direction."
On how he felt he's improved since the first practice:
"I feel that I have made a great jump since the first practice. I feel that Coach (Marquase) Lovings has pushed me and my fellow teammates to just get better each day and just make sure we focus on the small things to do."
On stepping up to replace graduated defensive linemen:
"I feel like we have guys that have to step up. We still have (Jaison Williams). He's a great player – All-American – but I think we have players like John (Whiteside), me, Marquise (Griffin) that will step up and play a great role in our defense."