Nashville, TN – The Austin Peay State University (APSU) women's tennis team will play for an Ohio Valley Conference Tournament Championship in the second straight season after shutting out Southeast Missouri, 4-0, Saturday, at Centennial Sportsplex.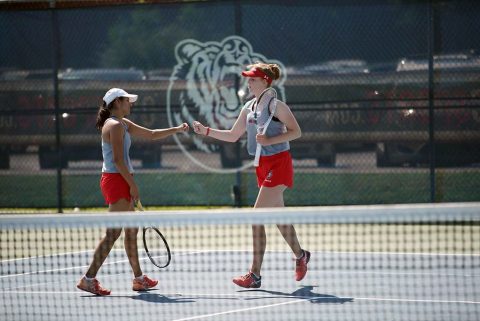 The Governors (21-0, 8-0 OVC) knew they were going to get some competition from the Redhawks (12-10, 4-4 OVC) in doubles.
The Govs needed a tiebreak win to claim the doubles point in the first meeting.
SEMO won at No. 2 doubles to kick things off, snapping the 11-match winning streak of Lidia and Claudia Yanes Garcia. SEMO looked poised to claim the doubles point, but Honoka Nakanishi and Tatiana Lopez came down from 5-2 to bring it back to 5-5.
Over on court No. 3, Fabienne Schmidt and Danielle Morris got a massive break when tied 4-4 and eventually held serve to tie the doubles portion up at 1-1. Nakanishi and Lopez broke their opponents for the second straight game before holding serve to complete the comeback and give the Govs the doubles point and a 1-0 lead. The duo extended their program record win streak to 13 matches with the victory.
The resistance was not at the same level for the Redhawks, who seemed a bit deflated after seeing a possible plan to a historic upset come to a screeching halt. All six Govs singles players won the first set, as it put them in a strong position to reach the title match.
Lidia Yanes Garcia won in straight sets at No. 2 singles (6-1, 6-1) and not even a minute later Morris also prevailed (6-2, 6-0) at the No. 6 spot. With their season on the line, the Redhawks started to fight back. OVC Freshman of the Year Romana Tarajova took a set off Claudia Yanes Garcia, as well as getting early breaks at No. 4 and No. 5 singles.
Lopez went up 3-0 in the second set at No. 3 singles, but her opponent roared back to take the lead, 4-3. In another twist, Lopez broke back to tie the set at 4-4, before holding serve to put the pressure back on her opponent. Lopez won the first two points of the deciding game, with her opponent hitting balls into the net. She eventually earned a double match point and after she challenged an out call by her opponent, the referee awarded her the point which sent the Govs back into the title match tomorrow.
The Govs will take on UT Martin for the OVC Championship, 10:00am, tomorrow, at Centennial Sportsplex. The No. 6 seeded Skyhawks defeated Jacksonville State in the semifinals. The Govs claimed a 6-1 victory over the Skyhawks in the regular season.
Box Score
Austin Peay 4, Southeast Missouri 0
Doubles
1. Tatiana Lopez/Honoka Nakanishi (APSU) def. KRUPA, Isabella/VELKOSKA, Teona (SEMO) 7-5
2. ZONOVA, Kseniya/SINHA, Sneha (SEMO) def. Claudia Yanes Garcia/Lidia Yanes Garcia (APSU) 6-4
3. Fabienne Schmidt/Danielle Morris (APSU) def. TARAJOVA, Romana/BARRIGA, Manuela (SEMO) 6-4
Singles
1. Claudia Yanes Garcia (APSU) vs. TARAJOVA, Romana (SEMO) 6-4, 2-6, 1-0, unfinished
2. Lidia Yanes Garcia (APSU) def. ZONOVA, Kseniya (SEMO) 6-1, 6-1
3. Tatiana Lopez (APSU) def. KRUPA, Isabella (SEMO) 6-2, 6-4
4. Fabienne Schmidt (APSU) vs. VELKOSKA, Teona (SEMO) 6-3, 3-4, unfinished
5. Helena Kuppig (APSU) vs. SINHA, Sneha (SEMO) 6-2, 4-5, unfinished
6. Danielle Morris (APSU) def. BARRIGA, Manuela (SEMO) 6-2, 6-0
Order of finish: Doubles (2,3,1); Singles (2,6,3)