Clarksville, TN – Austin Peay State University (APSU) Sports Information has announced that Valerie Brown, who has been a member of the APSU track and field and cross country coaching staff since 2011 and served as associate head coach since 2014, has been elevated to the head coaching role.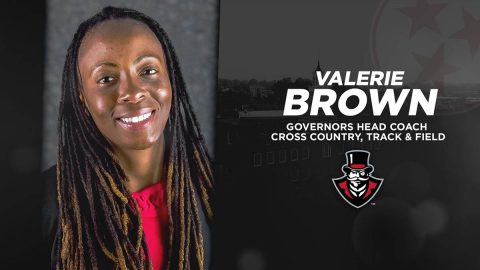 A 2009 graduate of Western Kentucky, Brown was an exemplary runner in her own right, earning bronze at the 2009 NCAA Indoor Championships in the 400m dash and becoming the second indoor All-American in Hilltopper history.
She's translated that success into coaching, where she has been responsible for shepherding Austin Peay's sprints, hurdles and relays contingent through an unprecedented era of success.
"After several meetings with Coach Brown it was very obvious that she has the skills, passion, and integrity to lead the Governor Cross Country and Track and Field program," said Austin Peay Director of Athletics Gerald Harrison. "The student-athlete success under her leadership as an assistant coach has been trending in the right direction. She is committed to the 'Total Gov' concept and we are excited to have her as our head coach."
Since Brown's arrival in 2011, Austin Peay sprint and hurdle athletes have set five school indoor records (55m dash, 60m dash, 200m dash, 400m dash, 1600m relay) and five outdoor records (100m dash, 200m dash, 400m dash, 100m hurdles, 4x100m relay). Not only have these marks been broken, in many cases they've been shattered:
The indoor 60m dash has been reduced by nearly two-tenths of a second since Brown arrived (from 7.68 to 7.49).
The outdoor 100m dash has been reduced by more than three-tenths of a second (from 11.83 to 11.51).
The indoor 200m has been reduced by a full second, from 25.24 to 24.24.
The outdoor 200m has been reduced by more than a half second (24.47 to 23.93).
The outdoor 4x100m relay mark has been reduced by nearly two seconds (46.94 to 45.28).
Brown was instrumental in the development of Breigh Jones, a three-time NCAA East Preliminary qualifier who represented Austin Peay in the 400m dash at the 2014 NCAA Championships in Eugene, Oregon. Jones smashed the school indoor 400m record by nearly two seconds (to 53.96) and the outdoor by more than two seconds (to 52.65) in her training with Brown, and she remains the only athlete in program history to break 54 seconds in the event.
In Ohio Valley Conference Championship competition, Brown's sprinters have been responsible for a large portion of the hardware brought home by Austin Peay student-athletes during her tenure. In all, Austin Peay's sprints/relays/hurdles group has accounted for 51 medals, including 11 gold medals, during Brown's time on staff, including eight at the 2019 OVC Outdoor Championships.