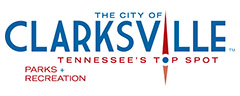 Clarksville, TN – Clarksville's Liberty Park was once again the site of our city's Independence Day Celebration, that features music, food and fun for the whole family, followed by an impressive fireworks display.
This year's fireworks were immediately followed by an equally impressive display by Mother Nature.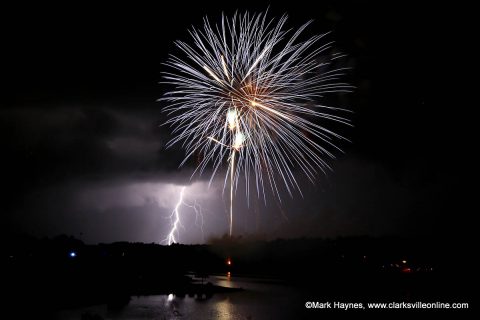 Clarksville Parks and Recreation's Rob Rayburn shared his thoughts on the evening's festivities.
"This is our 7th year at Liberty Park," Rayburn said. "It keeps growing and growing. More people seem to be comfortable with the idea of taking the shuttle now, and this year we're expecting a crowd of 5,000 to 6,000 people. And that's just inside the park."
Rayburn says, countless others line up along Riverside Drive, and all around the park.
"Many of our neighbors have parties too," Rayburn said. "The actual fireworks show is 15 minutes long. I'm not sure about the shell count, that changes from year to year. We've added different styles of music for people to enjoy this time. We've also added more activities for everyone, including the kids, and more food vendors."
Liberty Park opened at 5:00pm. Music and activities began at 6:30pm. The 101st Airborne Band opened the show, followed by headliner and local legend Tina Brown and her band. Rayburn himself acted as emcee for this year's event.
Clarksville Parks and Recreation's Kara Zahn was busy as well, organizing contestants for the most-patriotic costume contest, among a host of other duties.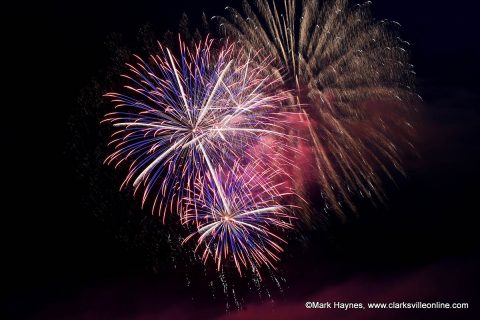 Clarksville Mayor Joe Pitts and First Lady Cynthia Pitts, found a great spot to relax and enjoy the show. "This is my first year attending as Mayor, and it's an honor," Mayor Pitts said. "Happy birthday America. This is a great event, there is great music and food, and it's all about family."
"This is a beautiful venue, and Clarksville Parks and Recreation always puts on a great fireworks show. There will be thousands of people out here tonight celebrating, and we are just so grateful. It just doesn't get any better than this," stated Mayor Pitts.
Photo Gallery – One
Photo Gallery – Two