Clarksville, TN – Austin Peay State University (APSU) men's basketball head coach Matt Figger has announced that he is adding a high-upside stretch wing signee to the team whose summer workload will see him grace the international stage for his native Montenegro.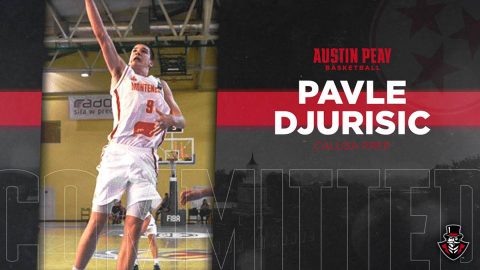 Pavle Djurisic has some familiarity already with Austin Peay State University — he was a teammate of current Gov Matheus Silveira two years ago at prodigious Calusa Prep in Miami.
Now, the 6-10 wing will join his former teammate in Clarksville, providing another big presence with athletic versatility as the Govs retool for the 2019-20 campaign.
"He's a very versatile player," Figger said. "He's a hybrid, Kevin Durant-type who can play in ball-screen. He's long, athletic, can shoot from three and put it on the floor. He can score in a variety of ways. With him, we'll have a lot of options; with the way the game is evolving, he allows us to be very dynamic from five different spots."
Djurisic's summer ahead of his arrival at APSU is going to be busy. Beginning July 13th, he will represent Montenegro at the FIBA U20 European Championships in Tel Aviv, Israel after having been a member of the U18 European Championship squad two years ago in Slovakia. Slotted into Group A against Great Britain, France and Turkey, Djurisic and his Montenegro teammates kick off competition against France, Saturday.
He's also on the shortlist for the final 12-man Montenegro Men's National Team roster that will compete at the 2019 FIBA Basketball World Cup, which begins August 31st in China; Montenegro is in Group F against Brazil, Greece and New Zealand.
"He's in the U20s now and then he'll go to training camp with the Montenegro National team before he comes to school," Figger said. "He's playing against grown men, no different than he would here if he were playing or trying out for the United States Olympic team. That will help his development and help our team when he gets to campus."