Clarksville, TN – Hitting the road for the first time in Ohio Valley Conference play, Austin Peay State University soccer will travel to Eastern Kentucky for a 3:00pm Friday match and then to Tennessee Tech for a 6:00pm, Sunday match.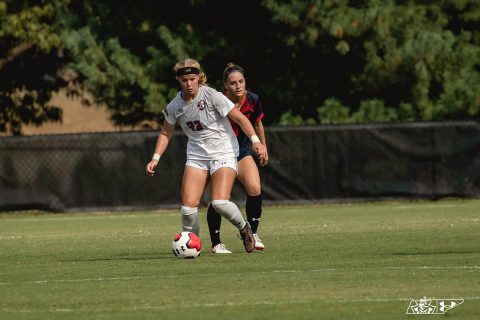 After starting OVC play 0-2-1 at Morgan Brothers Soccer Field, the Govs will hit the road for three straight starting on Friday in Richmond, Kentucky.
The longest road trip of the season for the Governors, it will see them make stops in Cookeville, Tennessee, and Jacksonville, Alabama, before their next home match.
Opponents
Eastern Kentucky
APSU vs. Colonels All-Time: 6-5-3
Last Meeting: October 5, 2018 (W, 3-0)
Record in Richmond: 0-5-1
Last Meeting in Richmond: September 15, 2017 (T, 1-1)
Last season, Mary Parker Powell posted one of her 11 career shutouts against Eastern Kentucky. The defense had a big part to do with the shutout, allowing only eight shots by the Colonels, with none of them on goal. Rachel Bradberry found the back of net off an assist from Renee Semaan, for one of the Governors three goals in the shutout victory.
Tennessee Tech
APSU vs. Golden Eagles All-Time: 5-10-1
Last Meeting: September 16th, 2018 (W, 1-0)
Record in Cookeville: 3-7
Last Meeting in Cookeville: October 1st, 2017 (L, 1-2)
Another matchup in which Mary Parker Powell kept a clean sheet last season; against Tennessee Tech she made three saves en route to the shutout. Claire Larose, the season's leading goal scorer, found the back of the net in the 18th minute and that was all it took as the Govs defense held strong the rest of the way to knock off Tennessee Tech.
Bradberry became the sixth Governor to find the back of the net this season, when she scored in the 63rd minute against Southeast Missouri. While six different Govs have scored, nobody has been able to find the back of the net more than once. Larose and Ashley Whittaker still lead the team with three points each, with each having a goal and assist on their season.
Defensively, the Gov's seniors have led the way, with the majority of the backline minutes played by the senior-trio of Semaan, Melody Fisher, and Meghan Dees. With senior Mary Parker Powell in goal, the Governors have a solid group of veterans for the rest of the team to lean on during their first OVC road matches.
For news, scores, and updates about Governors soccer while they hit the road this weekend, follow along on Twitter (@AustinPeaySOCR). You can also enjoy both matches this weekend, which will be streamed live on ESPN+.