Richmond, KY – A pair of early goals from Anna McPhie and Claire Larose proved to be enough for Austin Peay State University (APSU) soccer, which held off the Eastern Kentucky attack to secure its season's first Ohio Valley Conference win.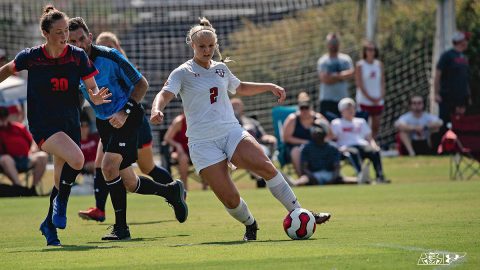 In the second minute, freshman Anna McPhie found the back of the net for her first career goal as a Governor. Claire Larose tacked on the game winner in the 15th minute, her second of the season, giving the Govs a two goal advantage. Eastern Kentucky was able to get one of the goals back, but four saves from Mary Parker Powell kept the Governor lead intact.
The fastest goal of the season for the Governors came off the left foot of McPhie. Working the two-man game with Abigail Gemza, McPhie was able to get open, and beat the Colonel keeper high right to give the Govs an early lead, 1-0.
The game winner for the Governors came in the 15th minute, when Larose beat the Colonel keeper to a Gemza cross, and put it in the back of the net. Larose became the first Gov to score multiple goals this season, and now leads the team with five points. Gemza, who assisted on both goals, moved into second on the team with four point on her season.
Eastern Kentucky was able to score in the 22nd minute to cut the lead to one, but the Colonels never could find the equalizer. Senior keeper Mary Parker Powell made four saves, all with the Governors leading, to secure a 2-1 win, and three points in the OVC standings.
APSU Coach Naomi Kolarova Thoughts
Opening Remarks
"Anna [McPhie] and Claire [Larose] scored two great goals in the first half and the team worked really hard to preserve that lead. We played much better in the five-minute moments we've talked about as a team, so it was good to see that persistence finally pay off."
Moving Forward
"It feels good to win. Three points in OVC play is huge for us, and we need to continue working towards earning the next three on Sunday. Tennessee Tech will be good, we'll have to show up for 90 minutes, connect our passes better, step to loose balls quicker, and finish our opportunities again."
Next Up For APSU Soccer
The Governors continue their three game road trip with a 6:00pm Sunday match at Tennessee Tech. The Golden Eagles are currently 1-1-2 in OVC play, coming off a 1-0 loss at Belmont. For the second straight match, Governor fans will be able to catch all of the action live on ESPN+.