Clarksville, TN – The regular season opener went according to plan for Austin Peay State University (APSU) men's basketball team, which hosted Oakland City in a Tuesday night tilt in the Dunn Center and walked away with a 110-67 victory to begin the 2019-20 campaign.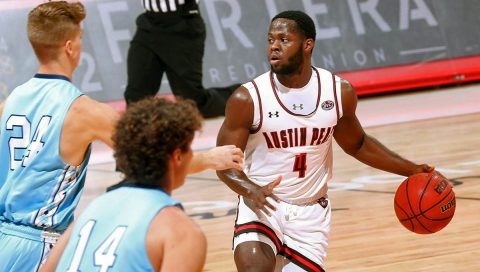 You'd be hard-pressed to call it perfect—the turnover numbers were up and the three-point shooting down from the heights Austin Peay State University enjoyed a year ago—but six players in double figures, including two true freshmen, certainly offer encouraging signs to begin head coach Matt Figger's third season at the helm.
From the outset, the Govs clearly had the upper hand from a talent standpoint—before the second media timeout, the Govs had built a double-digit lead. Predictably, Terry Taylor did a lot of the early heavy lifting but he was helped by both Antwuan Butler and Jordyn Adams—the trio combined to score 15 of APSU's first 20 points to build the lead.
Butler was a revelation in the first half. After not reaching double digits in his freshman campaign until a late-January meeting with Eastern Illinois, he netted 11 points in the first 20 minutes of the 2019-20 campaign, on slicing drives and an upgraded midrange game. By the break, the lead was in the 20s as every player on the active roster sought to showcase what they have to offer on the court.
Just as impressive was Adams, an athletic wing from Texas whose dashing drives will be tough tame once league play rolls around. He also netted 11 in the first half and 20 for the game, becoming the first Governor freshman since at least 1999-00 (when electronic record-keeping began) to net 20 in his first regular-season contest as a Gov. For comparisons sake, Taylor "only" had 15 in his Austin Peay State University debut and he went on to earn Ohio Valley Conference Freshman of the Year honors.
While Butler and Adams controlled the first-half narrative, it was the bigs time to turn heads in the second half. Off the pine, junior Sita Conteh nearly pulled off a second-half double-double with 17 points and nine boards, on everything from long-range threes to thunderous dunks. Taylor scored 14 of his game-high 21 in the second half, including an eight-point outburst in just 2:39 of play that led to the end of his evening.
In addition to the quartet of Adams, Butler, Conteh and Taylor, newcomers Reginald Gee (11 points) and Sam DeVault (12) both reached double digits in their Austin Peay State Unviersity debuts.
The Difference
Well… teams don't win by 43 points with just one small detail making a difference, but a plus-40 difference in bench scoring (56-16) is a good starting point. In Adams, Conteh and DeVault the Govs had three reserves in double figures for the first time since the Calvary contest, December 8th, 2018.
APSU Notably
This is Austin Peay State University's 10th straight win against Oakland City, with an average margin of victory of 34.9 points. Ten straight wins is APSU's second-longest active streak to opponent, behind only its success against Bethel (22 straight wins).
The win is Austin Peay State University's fourth straight in the home opener and seventh home-opening win in the last eight seasons.
The Govs have won 19 straight games when allowing fewer than 70 points.
Making their Division I debuts were Adams, Conteh, DeVault, Eli Abaev, Codey Bates and Alec Woodard.
Taylor passed Joe Sibbitt for 20th all-time in scoring, now standing at 1,226 points. Next: Lamonte Ware (1,261 points)
Austin Peay State University has now won the regular season opener in back-to-back seasons for the first time since 2012-13.
With 13 points, Butler set career highs in scoring and field goals (six). He also scored his 100th career point as a Gov.
Taylor also moved into 16th all-time with 464 career field goals and equaled his career high with three blocked shots.
Coaching Quotables with APSU Head Coach Matt Figger
On Positives
"There was a moment in the second half when I had a certain unit out there that played to the identity that we wanted to play at. They did a really good job of locking in after being challenged during a timeout and we went on a run. I was happy with some of the contributions from Sita Conteh; he was our leading rebounder tonight."
On Stepping Up

"I'm looking for leadership right now, and unfortunately right now I'm having to be that guy and that's not a good situation to be in. I need a couple of those guys who have played college basketball to help us grow. We need to play with some grit; we're too cool and casual at times."
On Gaining Trust
"I'm gaining more trust in Jordyn Adams every game. Alec Woodard doesn't jump out at you with any stats, but those two have some abilities and they have a motor about them. With Jordyn on the floor, we were plus-46 tonight, which should tell you everything."
Up Next for APSU Govs
No offense to the competition up to this point, but Saturday is going to kick things up a notch. That's when Austin Peay State University Men's Basketball travels to Bowling Green, Kentucky to face Western Kentucky and kick off a three-game road trip that also will take the Govs to Tulsa and Vanderbilt. Tip-off is scheduled for 3:00pm from E.A. Diddle Arena.