Clarksville, TN – After three straight tough road losses before erasing a second-half deficit in their last contest, the Austin Peay State University (APSU) men's basketball team needed a win without complication–wire-to-wire, double-digits, the chance to expand the rotation and give extended minutes to reserves and get key players some rest during the long grind of the regular season.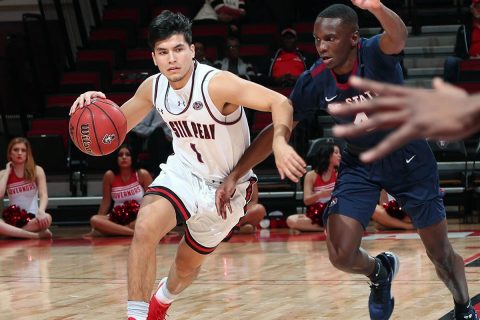 That's just what the Govs got against South Carolina State, jumping out to an early lead and never looking back in a 92-66 victory in the Dunn Center to bring their season record back to .500 at 3-3 overall.
The Govs led 8-0 in just over three minutes of action and had grown the lead to 11 by the 11:34 mark on a Terry Taylor lay-up. However, the Bulldogs were not going to simply roll over, to pardon the expression; diligently, the visitors chipped away at the deficit, cutting the Austin Peay advantage to five with 2:30 to play in the half on a pair of Tashombe Riley free-throws.
However, as quickly as the deficit was cut down, it was regrown, culminating in a Sam DeVault buzzer-beater to send the Govs in to halftime with a 10-point, 39-29 lead over the Bulldogs (2-4).
A 10-point lead is nice, but not insurmountable; a 20-point advantage is more tangible, and the Govs reached that point with 13:25 to play on an Antwuan Butler layup to end a 23-13 run for Austin Peay State University. The Govs led by as many as 27 points and as few as 16 points, but were never challenged the rest of the way.
As per usual, Taylor led the way with 25 points, eight rebounds and a career-high four blocked shots. Jordyn Adams and Eli Abaev each added 10 points, while freshman Carlos Paez netted a career-high 17 points in 16 minutes of work.
The Difference
The number that leaps off the page is the 33-11 discrepancy in bench scoring. Paez we've talked about; he was supplemented by Alec Woodard, who scored five in 28 minutes and added a pair of steals, and DeVault, who hit a pair of threes in nine minutes of work. It marked the first time since the season opener that the Govs bench outscored the opposing reserves.
APSU Notably
The victory is Austin Peay State University's first at home against a MEAC foe since December 3rd, 1983 against Bethune-Cookman.
Over the last four games, the Govs are hitting 39.1 percent from three as a team and averaging 9.0 made three-pointers per game.
Twenty-three free-throws were a team season-high, with Paez accounting for 11 by himself—most by a Gov in a single game since Taylor made 11 in the 2019 OVC quarterfinal against Morehead State.
South Carolina State secured just 28 rebounds, the first time an Austin Peay State University opponent has failed to grab at least 30 boards since Morehead State, March 7th, 2019.
Eli Abaev is averaging 7.0 points and 9.3 rebounds over the last three games. He broke into the double-figure scoring column for the first time as a Gov with 10 points against South Carolina State.
Adams has scored in double figures in four straight games, averaging 16.5 points over that span.
As a team, the Govs blocked 11 shots, their most since a Dunn Center-record 17 blocks against Berea, November 16th, 2014. It marks the APSU Govs first double-digit block party against a Division I opponent since February 19th, 2014 against Morehead State.
The Govs are now 3-0 to start the home schedule for the second straight year.
On average, the APSU Govs are plus-12.0 in rebounding in their three wins, as opposed to minus-6.0 in losses.
Milestone Watch
Taylor passed Josh Robinson and tied Jermaine Savage for 14th all-time with 1,345 career points. He also took over 33rd all-time in made free-throws from former teammate Chris Porter-Bunton with 226 and equaled Marcel Williams for 10th all-time in blocked shots with 75.
Coaching Quotables with APSU Head Coach Matt Figger
On defense
"I felt like we started how we ended against Southeastern Louisiana defensively, but our turnovers and fouling allowed them to get back into it a little bit. In the second half, they put their heads down and went to the basket more."
On new faces showing up big
"I've been wanting to get Alec (Woodard) more and more minutes, because he really brings it in practice and has a lot of physical toughness about him. I was really happy to see Evan Hinson step up in the second half and give us big minutes. I was happy with some of the stuff Sam DeVault gave us. Carlos Paez was really steady for us."
Up Next for APSU Men's Basketball

First, turkey on Thursday. Then, back to work as Austin Peay State University men's basketball prepares for the second of three SEC foes on its schedule in 2019-20 when the Govs visit Arkansas, December 3rd.