Brentwood, TN – Once again, Austin Peay State University (APSU) men's basketball team had the best overall performance and freshman performance in the Ohio Valley Conference last week, with Terry Taylor earning his season's sixth OVC Player of the Week award and Carlos Paez earning his third OVC Freshman of the Week honor.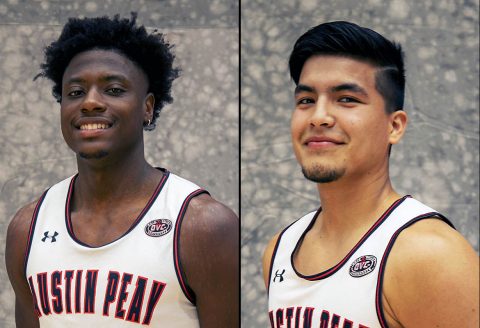 It also marks the third time Taylor and Paez have been honored in the same week in 2019-20.
Another week, another 20-10 average for Taylor. He opened play with 27 points and 12 rebounds at Tennessee Tech, grabbing his 300th career offensive rebound and becoming the ninth player in program history with 600 career field goals during that contest.
He followed that up with 14 points and nine boards in the face of near-constant double-teams in Austin Peay State University's comeback win against Jacksonville State to remain tied atop the conference.
For the week, Taylor averaged 20.5 points, 10.5 rebounds, 1.0 block and 1.0 steal. He hit 46.7 percent from the floor and 72.2 percent at the free-throw line. Taylor has now earned six Player of the Week honors this season and 10 in his Austin Peay State University career.
Paez became the first APSU Gov not named Terry Taylor or Jordyn Adams to lead the Govs in scoring, notching a game-high 16 points, all in the second half, against Jacksonville State to key Austin Peay's comeback win against the Gamecocks.
He hit the first of an Austin Peay State University season-high five three-pointers on the first possession of the second half, then keyed a 9-2 run with a trio of threes to make it a one-possession game. He also had five assists and two steals against the Gamecocks. He opened the week with a 10-point outing at Tennessee Tech.
For the week, Paez posted 13.0 points, 4.0 assists, 2.0 rebounds and 1.5 steals, hitting 53.3 percent from the floor, 75.0 percent from the line and 70.0 percent from three. This is now the third Freshman of the Week honor Paez has earned, and the seventh in 10 weeks between he and Jordyn Adams.
Taylor, Paez and the APSU Govs head back on the road this week, wrapping the four-game road trip at Southeast Missouri (7:15pm, Thursday) and UT Martin (4:00pm, Saturday).