Clarksville, TN – Since Belmont joined the Ohio Valley Conference, there has always been an unspoken adage around the league: if you want to be the champ, you've got to go through the Bruins.
The Austin Peay State University (APSU) men's basketball team took another big step in that regard Saturday night, fending off Belmont in an 86-78 contest that proved, undeniably, that the Govs are in the discussion among league favorites.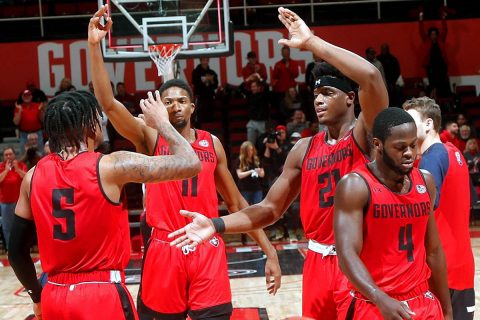 It's not as though the incredible play of Terry Taylor has gone unnoticed; by this point, everyone knows the versatile forward from Bowling Green Kentucky is one of the men to stop if you want to contain the Govs.
Belmont was as literal in its doubling of Taylor as any team Austin Peay State University has played this season; with Belmont big Nick Muszynski planted near the paint, Taylor was essentially doubled constantly, with or without the ball in his hands, with the clear implication being: find someone else to beat us.
This freed things up for Eli Abaev in the post, who often found himself working with no defender near him. He scored Austin Peay State University's first seven points and 12 of the Govs first 16, forcing the Bruins to abandon this plan and at least account for the Deerfield Beach native.
The assault on Taylor continued unabated, but Jordyn Adams soon found room to work. The Silsbee, Texas native got going late in the half, scoring 11 points over the final 6:16 of play, including a halfcourt heave that swished home as the buzzer sounded to send the Govs into the locker room down just five, 43-38.
After being shutout–the first time he was held without a point in a half since December 5th, 2018 at Alabama A&M–it was likely Taylor would respond with a big second-half. He scored 11 in the first nine minutes of the second half, even as Belmont threw ever more defenders in his direction. Thanks to four from Taylor and an Adams three, the Govs opened the second on a 7-0 run to take the lead.
An unlikely hero emerged early in the second half. Looking for a spark, head coach Matt Figger inserted Pavle Djurisic; on back-to-back possessions, the big man knocked down three-pointers, pushing Austin Peay State University's lead to seven and sparking an offense that had seen its lead sliced to a point after Belmont clawed back into it.
An Abaev dunk on a breakaway made it an 11-point Austin Peay State University lead with 7:39 to play but you can never count out a prohibitive league favorite with that much time to play. A quick 8-0 run for the Bruins had the APSU Govs lead down to three with just under six minutes remaining.
At that point, the APSU defense became what Figger has always preached it could become: a unit that destroys its opponent. From the 5:49 mark until a Grayson Murphy three with 1:49 remaining, the Govs held Belmont scoreless, with seven straight missed field goals including a crucial sequence near the three-minute mark that saw Belmont extend possession with a pair of offensive rebounds.
Over that same stretch, the Govs embarked on an 8-0 run of their own to push the lead back to double-digits prior to Murphy's three. The Bruins, who needed to foul to extend the game and hope the Govs missed their free-throws, would never make it more than a two-possession game thanks to Carlos Paez and Alec Woodard, who combined to make eight straight at the line over the final 1:06 of the contest.
The Difference
The Govs made their mark on the glass, outrebounding Belmont 42-31. Taylor was a monster, finishing with a team season-high 17 boards for his season's ninth double-double. Abaev added nine boards; together, the duo finished with five fewer than Belmont had as a team. Austin Peay State University also doubled-up Belmont in offensive boards, 12-6, leading to a sizable 14-3 advantage in second-chance points.
APSU Notably
The win makes the APSU Govs 8-0 to start league play for the first time since the 2003-04 team went unbeaten through the OVC schedule.
The win is Austin Peay State University's first regular-season victory against Belmont since November 17th, 2008. It's also the Govs first win against Belmont in the Dunn Center since Nov. 17, 2007.
Abaev had the finest performance of his Austin Peay State University career Saturday against the Bruins, turning in career-highs in points (18) and field goals (eight).
The Govs are averaging 7.3 turnovers committed over the last three games, their first three-game stretch in 2019-20 with 10 or fewer turnovers in each contest.
The win is Austin Peay State University's first against Belmont with Figger as head coach.
Since league play began, APSU's average turnover margin is plus-3.3 and its average rebound margin is plus-5.8.
After leading all scorers with 24 points, Adams is now averaging 28.3 points, 3.0 assists and 1.0 steals per night, hitting 51.8 percent (29-for-56) from the floor, 90.9 percent (20-for-22) at the free-throw line and 48.3 percent (14-for-29) from beyond the arc. He also turned in a career-high six assists, Saturday.
Murphy finished with 10 assists, most by an Austin Peay State University opponent in 2019-20.
Over the last three games, APSU is hitting 85.7 percent (60-for-70) from the charity stripe.
The Govs are now 11-0 when scoring 80 points or more in 2019-20.
APSU has now won 11 straight at home, longest since an 11-gamer in 2007-08.
The Govs are averaging 10.4 threes per game over the last five games.
Austin Peay State University has now won eight in a row for the first time since 2006-07.
The Govs committed a season-low 12 fouls on the night.
Coaching Quotables with APSU Head Coach Matt Figger
On the win
"It wasn't easy. We weren't as sharp as I would've like to have been. A lot of that had to do with nerves. Give Belmont a lot of credit. They weren't going to come in after losing at Murray and not give their best effort against us. Casey Alexander is a heck of a good coach who's been in NCAA Tournaments and NIT Championship (games), they were always going to give us their best shot.
"It's the one I hope makes us feel like we're legitimate in the eyes of everybody in this area. We can't let up now. We've already put ourselves in an unbelievable position. We can't take any steps backward."
On overcoming
"I don't feel like it was our best effort. There was a little stretch where we pretty doggone good. We kept getting right there, but we couldn't get [the lead] into double figures. We'd turn it over, we'd take a bad shot, whatever. But we were tough. They made 10 threes, but they made three of them late; I thought we did a pretty good job making things hard on them."
On maintaining their edge
"We've got Edwardsville coming in on Thursday, and we've got to remind our guys that they beat Belmont to start the season and Eastern Illinois has given us fits the last few times we've played them. You look at our stretch, and there's nothing easy. League play is never easy; the only thing I can get consumed with is SIUE."
Next Up For APSU Men's Basketball

Another test aced, the APSU Men's basketball team will find new challenges next week when SIU Edwardsville and Eastern Illinois visit the Dunn Center. The Cougars are up first, Thursday night; they also have one of three wins against Belmont this season after dispatching the Bruins in their conference opener.