Chattanooga, TN – The Austin Peay State University softball team rallied with a four-run fifth inning in Game 2 of their doubleheader with Chattanooga, Sunday afternoon at Jim Frost Stadium, to come away with a 4-1 victory after dropping the opener, 9-1.
It was the season opener for both teams.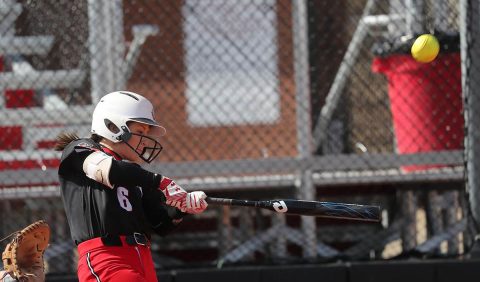 Game 1
Chattanooga 9, Austin Peay 1
Chattanooga jumped out to a 4-0 lead in the first inning against the Govs, as the Mocs took advantage of four hits, a walk and a hit batter in scoring their runs.
UTC would extend its lead out to 5-1 with a single run in the third inning before Austin Peay State University would finally get on the board in the fourth.
In that inning, Emily Harkleroad got things going with a one-out single past the UTC third baseman and moved to third on a single to right by Brett Jackson.
Harkleroad would score a batter later, as her came home on an infield out by Brooke Pfefferle to make it 5-1.
But that would be as close as the APSU Govs would get, as UTC closed out the game by scoring four more runs in the bottom of the fifth inning for the nine final.
Game 2
Austin Peay 4, Chattanooga 1
The nightcap would see the game remain scoreless until the bottom of the third inning, when UTC pushed across a run to take a 1-0 lead.
It would remain that way until the top of the fifth inning when the Austin Peay State University offense exploded for four runs.
Pfefferle and Katelyn Smith would get the inning going with a walk and a bunt single, with Pfefferle scoring the tying run a batter later when Bailey Shorter singled up the middle and advanced into scoring position at second and Smith to third base on the throw.
Shorter would lead the APSU Govs on the day with four total hits in the two games.
Pinch hitter Brett Jackson would follow and give the Govs their first lead of the day, scoring Smith from third on an infield out to make it 2-1.
Lexi Osowski would then double the Govs scoring two pitches later, as she hammered a ball over the left-center field fence for Austin Peay State University's first home run of the season to make it 4-1.
That would be all the runs that the Govs starter freshman Shelby Harpe would need, as she closed out the game recording the final nine outs without giving up any more runs in the 4-1 victory.
Harpe would get the complete-game win, scattering seven hits and stranding 11 UTC runners, while walking four and striking out five in her 126 total pitch effort.
Inside the Boxscore
Austin Peay State University is now 17-18 all-time in season opening games and 32-41-1 in all games played on the opening day of a season.
The games in Chattanooga were the first season-opening games within the borders of the State of Tennessee for the Govs since the start of the 2011 season.
After sitting out the 2019 season due to injury, Emily Harkleroad returned to the lineup and picked up two hits, including a double, and scored a run in the doubleheader.
APSU did not commit and error in their 47 total chances on defense during the doubleheader.
Shelby Harpe becomes the first freshman pitcher to win their first career start on opening day since Kelsey Gross defeated Kennesaw State on February 11th, 2017.
On bouncing back in Game 2 to get the win
"UTC is a great squad and we knew coming down here we would have to compete if we were going to come away with a win. This team showed the grit and fight they have to be able to flush Game 1, restart, refocus, then grind out a win in Game 2. That grit and fight what we're looking for."
On Shelby Harpe's performance
"Shelby performed very well in the circle and that's when we talked about after the game in UTC being able to put runner on, but us being able to shut them down. Our defense played solid behind her and she felt comfortable was just able to pound the zone and it worked in her favor."
On building for next week
"We've got a couple of days in Clarksville this week to practice and get ready for next weekend. We'll also look at some game film, fine tune some things we need to work on and how to get better to be ready for next weekend at South Alabama."
Next Up For APSU Softball
The Austin Peay State University women's softball team will be back in action coming this Friday through Sunday at the Jaguar Challenge, hosting by South Alabama in Mobile, AL.