Clarksville, TN – A Clarksville McDonald's says a celebration is in order! The graduating class of 2020 isn't able to hold their diplomas high after shaking hands with their principal. However, communities are rallying together to throw celebrations for seniors like none other.
Local Clarksville McDonald's owner-operator Emily Ellis is hosting a graduation parade for 23 crew members that graduated this year.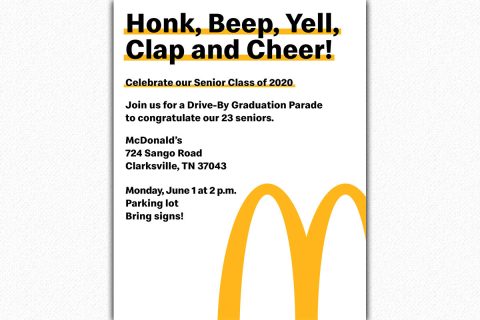 Cars will line the restaurant parking lot with signs, celebratory cheers, claps, and loud horns to recognize the seniors.
It's a different graduation stage but one nonetheless.
Please join our parade on Monday, June 1st at 2:00pm. The celebration will be held at the McDonald's on 724 Sango Road in Clarksville, Tennessee.
We'll be happy to coordinate an interview with the local owner-operator as well as graduating seniors. Please let us know if you'd like to attend.