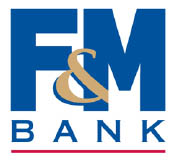 Clarksville, TN – F&M Bank recently announced the addition of Kim York to its team of banking leaders. In her role as Senior Vice President, Director of Marketing, York will develop and guide traditional and digital marketing initiatives to help advance the bank's growth opportunities and guide the brand's voice to build awareness and relevance among key stakeholders and target audiences.
Commenting on the announcement, Sammy Stuard, President and CEO of F&M Bank said, "As we continue to expand our markets and the bank's brand, we are fortunate to have Kim's strategic insight and talent for working with diverse teams and partners to best position these critical elements for success."
Executive Vice President, John Peck, also stated, "The needs of banking customers and the technology that supports those needs continue to shift. Kim's extensive experience with digital marketing will create a path to higher visibility and improved customer engagement. She will be an asset to F&M's continued growth and relevance."
In previous positions within the banking sector, York was a driving force for change. Her accomplishments include securing the naming rights of Nashville's Ascend Amphitheater and receiving the prestigious Professional of the Year award from the National Association of Federal Credit Unions.
York is located at the Downtown Clarksville headquarters and can be reached by email at kimberley.york@myfmbank.com or by phone at 931.553.8212.
About F&M Bank
F&M Bank, headquartered in Clarksville, Tennessee has assets exceeding $1.5 billion. Full-service banking offices including mortgage loan services are also located throughout middle Tennessee and southern Kentucky.
For contact information and office locations, visit
www.myfmbank.com