Topic: Jacob Robertson

Clarksville, TN – As part of the ongoing PeayClipse lecture series, Austin Peay State University senior physics student Jacob Robertson will present a talk titled, "Total Solar Eclipse: Nature's Stellar Coincidence."
The talk will take place at 7:00pm, Saturday, August 19th, 2017 in Liberty Park, prior to the evening's featured film, "Space Jam."
«Read the rest of this article»
Written by Joe Pitts
Tennessee State Representative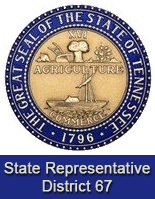 Nashville, TN – Hiring Preferences for Veterans – House Bill 165/Senate Bill 209 (Senator Mark Green, R-Clarksville) passed out of the Consumer and Human Resources full Committee and will be heard on the House Floor next Thursday, March 9th. The Senate Commerce and Labor Committee rolled Senate Bill 209 until next week due to the committee running out of their allotted time.
This legislation was brought to us by the U.S. Department of Defense. Many companies would like to give special consideration for hiring veterans because of their unique skill sets, proven work ethic, and reliability, but may be hesitant to do so out of concern of violating Title VII of the Civil Rights Act of 1964.
«Read the rest of this article»
Written by Curtis Johnson
Tennessee State Representative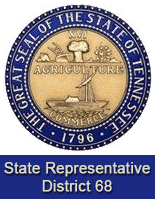 Nashville, TN – Tennessee Governor Bill Haslam, the Department of Economic and Community Development and LG Electronics Inc. officials announced the company will build a new home appliance manufacturing facility in Clarksville. The global manufacturer, with headquarters in South Korea, is a leader in appliances, electronics and mobile devices.
LG will invest $250 million in the facility, creating at least 600 new jobs in Montgomery County. The Clarksville facility will be LG's first washing machine manufacturing operation in the United States. LG's new Tennessee facility is expected to be the world's most advanced production plant for washing machines.
«Read the rest of this article»

Clarksville, TN – In a few months, Austin Peay State University will officially turn 90, and anyone who happened to be on campus when the school first opened in the late 1920s would likely not recognize it today.
«Read the rest of this article»

Clarksville, TN – Quasars—massive black holes that emit large amounts of radiation—are among the brightest objects in the universe, but that doesn't mean they're easy to identify.
For centuries, they've been mistaken for other shining celestial objects, and in recent years, astronomers had yet to accurately identify a certain one of these brilliant specks in the southern sky.
«Read the rest of this article»

Clarksville, TN – Almost like dominoes toppling over, only in reverse, a line of high-altitude balloons will gradually rise into the late summer sky, from Oregon to South Carolina, on August 21st, 2017.
That afternoon, the shadow of a total solar eclipse will traverse the entire country, and as it nears Clarksville, a team of Austin Peay State University students will release their own helium-filled inflatable.
«Read the rest of this article»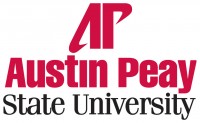 Clarksville, TN – Austin Peay State University has awarded scholarships to the following 2012 area high school graduates:
Raven Brown, Clarksville High School, received the Presidential Scholarship. Brown plans to major in nursing at APSU.
Kristen Austion, Montgomery Central High School, received the Dean's Scholarship. Austion plans to major in biology at APSU. «Read the rest of this article»