Clarksville, TN – Almost like dominoes toppling over, only in reverse, a line of high-altitude balloons will gradually rise into the late summer sky, from Oregon to South Carolina, on August 21st, 2017.
That afternoon, the shadow of a total solar eclipse will traverse the entire country, and as it nears Clarksville, a team of Austin Peay State University students will release their own helium-filled inflatable.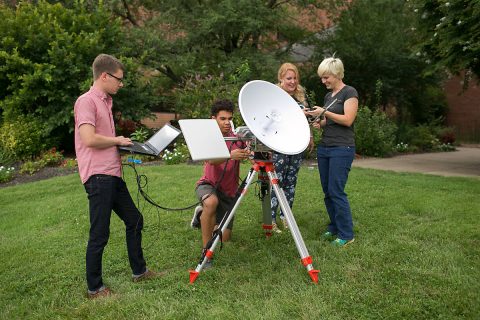 "We're one team of about 60 in this national collaboration called the Eclipse Ballooning Project, and the goal is to have institutions along the (eclipse's) path of totality stream live video and images of the eclipse," Jacob Robertson, an APSU physics student, said.
Earlier this summer, Robertson and two other APSU students—Megan McCracken and Mary Sencabaugh—traveled to Montana State University for a conference on the NASA-funded project.
"At this workshop, we built the payload and ground system that will be used to stream video from 80,000 feet during the 2017 eclipse," Robertson said. "It's exciting because we're combining meaningful science outreach with legitimate science."
On August 21st, 2017, videos from the balloons will be streamed on NASA's homepage, www.nasa.gov. To make sure a video is available when the eclipse's shadow passes over Austin Peay's campus, the APSU team will spend the next few months conducting test flights of their high-altitude balloons.
"We're only going to have a two-minute window, and we have to make sure our balloon is up there, above the atmosphere," Sencabaugh said. "And it will go up to about 90,000 feet and then it will pop, but if it pops too soon, we won't get any footage because it will just start tumbling."
In addition to capturing live video of the eclipse, the team is looking to attach other experiments to the high-altitude balloon project. One idea includes sending tardigrades—eight-legged, microscopic animals—into the stratosphere.
"They're little microscopic creatures that can survive the vacuum of space," Sencabaugh said.
"They should be able to survive and come back alive," McCracken added. "That's our plan—get them back alive and have them here."
APSU student Dominic Critchlow, a veteran of high-altitude balloon research, is also joining the project. He plans to attach an array of cameras, powered by a lightweight computer he built, to the balloon. His goal is to get pictures of the sun during the eclipse.
"It will be interesting to see what the sun looks like from that altitude," he said. "Will it be similar (to other flights), will we even see anything? Are we going to see something really cool that no one has seen before?"
In the coming months, more APSU physics and astronomy students are expected tojoin the project. If successful, millions of people will be able to view the team's video of the solar eclipse on www.nasa.gov
Theteam's balloon launch is only one of several projects taking place at APSU during next year's historic eclipse.
For more information on the University's eclipse projects and events, visit www.apsu.edu/eclipse