Written by Joe Pitts
Tennessee State Representative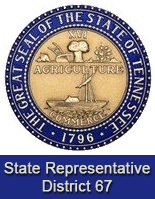 Nashville, TN – Hiring Preferences for Veterans – House Bill 165/Senate Bill 209 (Senator Mark Green, R-Clarksville) passed out of the Consumer and Human Resources full Committee and will be heard on the House Floor next Thursday, March 9th. The Senate Commerce and Labor Committee rolled Senate Bill 209 until next week due to the committee running out of their allotted time.
This legislation was brought to us by the U.S. Department of Defense. Many companies would like to give special consideration for hiring veterans because of their unique skill sets, proven work ethic, and reliability, but may be hesitant to do so out of concern of violating Title VII of the Civil Rights Act of 1964.
Title VII, Section 11 of the Civil Rights Act, however, contains a carve-out that exempts veterans' preference processes that are authorized by state statue.
Other bills of note, sponsored by Rep. Pitts, to advance this week include HB0500, requested by members of the Board of Osteopathic Examination to increase members' per diem reimbursement for their meetings.
These volunteers spend precious time away from their medical practice, seeing patients, to provide guidance and oversight of Doctors of Osteopathic Medicine. Senate Joint Resolution 0005 also cleared the House State Government Subcommittee. This resolution would request the U.S. Department of Veterans Affairs to locate a veterans hospital in Clarksville.
Austin Peay State University
Students displaying research projects in the Posters at the Capitol visited the Tennessee General Assembly this week. The purpose of this event is to expose state legislators to undergraduate research from across the state.
They were accompanied by Dr. Erin Lynch-Alexander, Director, Office of Undergraduate Research and Carol Clark, Executive Assistant to the President for Community and Government Relations.
The name of these students' poster are as follows:
Ronnie Roberts – Effects of Proficient Readers Strategies on Reading Comprehension and Writing Proficiency in College-Aged Students
Shelia Johnson – The Relationship between Limitations in Daily Activities and the Receipt of Social Support among Cancer Survivors
Elizabeth Johnson – The Effects of Socioeconomic Curriculum on Gifted Students
Jacob Robertson – Discovery of a New Quasar SDSS J022155.26-064916.6
Dominic Critchlow – Remote Sensing through Stratospheric Balloons
Travis Hodge – Stellar Label Approximations and Carbon Abundances of Carbon Enhanced Metal Poor Stars
Pharmaceutical Take-Back Program
Prescription Drug Take-Back boxes provide a secure location where unused and unwanted prescription drugs can be safely disposed. These permanent boxes prevent prescription and over-the-counter medications from getting into the hands of children and into Tennessee's waterways and ensure they are disposed of in a safe, environmentally-friendly manner.
In Montgomery County, the permanent boxes are located at the Clarksville Police Department at all three locations.
The locations are as follows:
135 Commerce Street
1584 Vista Lane
211 Cunningham Lane
A grassroots program called "Count It, Lock It, Drop It was established in Coffee County and it provides free lock boxes to families looking to keep prescriptions out of the hands of relatives or friends who may be searching for a quick fix. Now with the support of a $1.27 million grant from BlueCross/Blue Shield of Tennessee Health Foundation, the Count It, Lock It, Drop It, initiative will expand state-wide in a push to help other communities combat the painkillers epidemic that has claimed thousands of lives.
The U.S. Centers for Disease Control and Prevention reports that 1,263 Tennesseans died from opioid overdose in 2014. That's more than died in car accidents in Tennessee that same year. To contact someone about a family lock box call 1.888.422.4001."
If you have questions about the above or other issues of concern, please call me at 615.741.2043, or email me at rep.joe.pitts@capitol.tn.gov