Topic: Stalking

Clarksville, TN – Deputy Jason Pike has resigned his position with the Montgomery County Sheriff's Office.
The Sheriff's Office started an internal investigation of Pike on February 26th following his arrest by the Clarksville Police Department for stalking.
Pike, 39, has been an employee of the Montgomery County Sheriff's Office since 2008.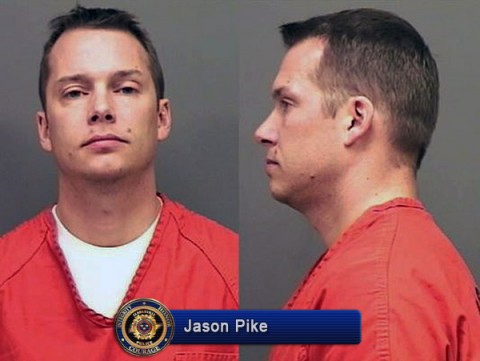 «Read the rest of this article»
Employee caught submitting fraudulent expenses
Clarksville, TN – An employee at the Clarksville-Montgomery County Regional Planning Commission has filed a grievance claiming a "hostile" work environment.  That same employee was recently reprimanded by Planning Commission Director Dr. David Ripple, for submitting fraudulent expense reports and overcharging local, state and federal agencies for his travel expenses.
John Stanley Williams filed a grievance this week claiming that Audrea Smithson, a fellow RPC employee, has been treated more favorably as it relates to sick leave, comp time and absences from the office and he and "others" are asking for an outside/independent agency to review Smithson's records, interview staff members and report their findings to the executive committee. «Read the rest of this article»

Clarksville, TN – In an effort to bring more attention to drivers that drink and drive, the Clarksville Police Department is consolidating and publishing the circumstances which lead to the DUI arrest. They are arrests, not convictions.
Police made 14 DUI arrests from February 25th thru March 4th, 2013. The blood alcohol content levels ranged from .121-.201. Two of the DUIs were repeat offenders who had been previously charged. Five of those charged involved accidents.
«Read the rest of this article»
Study shows very slight decrease in domestic violence over three year time period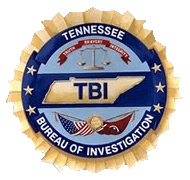 Nashville, TN – The Tennessee Bureau of Investigation today released a study that analyzed the state's domestic violence crime data as reported by law enforcement agencies through the Tennessee Incident Based Reporting System (TIBRS) program in an effort to gain more insight into the problem of domestic violence within Tennessee.
The report analyzes offense data flagged as domestic related from 2009 through 2011.
«Read the rest of this article»

Clarksville, TN – On August 23rd, 2012, around 7:15pm, Clarksville Police were called to Marhsall Drive to investigate an Attempted Kidnapping. Officers were told that a 13 year old female had been followed by a male in a black vehicle on Peachers Mill Road.
He pulled next to her and told her to get in the vehicle. She continued walking, the vehicle followed her, and then pulled up next to her and told her to get into the vehicle again. She crossed the street and went into Chum's Market, 811 Peachers Mill Road. The vehicle followed her and pulled onto the market's parking lot.

«Read the rest of this article»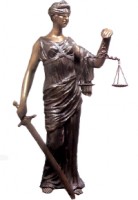 Clarksville, TN – A judge of the Montgomery County, Tennessee general sessions court has dismissed a stalking charge against John Ryan Cunningham, 36, coach and teacher at Fort Campbell High School. The charge was taken out in February by fellow teacher Geneva C. Howard, 39, of Clarksville, TN. 
"I feel vindicated by the court", said Cunningham upon the dismissal. "But quite frankly it has shaken my faith in the justice system. It is scary that a person can go into Montgomery County Tennessee where people do not know me and swear out a totally false statement and have me arrested. I am grateful for my family, friends, and fellow faculty at Fort Campbell who supported me through this ordeal." «Read the rest of this article»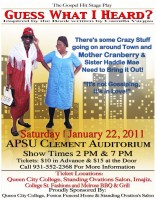 Clarksville, TN – The Gospel play "Guess What I Heard?" will be performed at the APSU in the Clement Auditorium on Saturday, January 22nd 2011 at 2:00pm and at 7:00pm. The play is based on the book written by Camilla Vargas. It  is produced, written, and directed by Treva R. Gordon; with writing assistance by Lavon Bravy. Associate directors include Alphonse & Benetta Prather, Lavon Bracey, and Jacqueline Lisenby.
Guess What I Heard is not your ordinary gospel music theatrical play. Comprised of 6 vignettes that touch on stalking in a relationship, baby momma drama, spousal cheating, spousal abuse, self esteem, & suicide. These stories are based in the real world, and are applicable to the lives of people in our community. «Read the rest of this article»