Topic: Urban renewal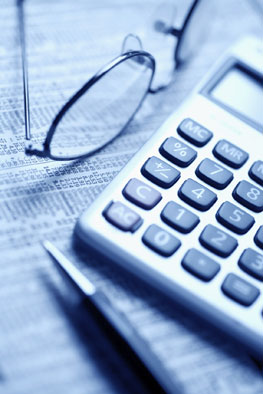 Conflicts of interest exist when people in positions of trust, such as politicians, have competing personal interests which make it difficult to fulfill their duties impartially.
As our city government, comprised of the mayor and city council, routinely rule on issues affecting realtors, builders, developers, and building material suppliers, people in those disciplines should not serve in city government. Since active realtors, builders, and developers are entrenched in elected local offices, we have bad laws which enrich them at the expense of the voters who elected them and all taxpayers and residents.
Christina Walsh of the Castle Coalition, of which I am a member, wrote recently about Clarksville, "Clearly, the confluence of bad law and politically connected developers here does not bode well for the citizens of Clarksville, who have been virtually abandoned by the very political officials they elected to represent their best interests. Local governments very often disguise their intentions of transferring perfectly fine properties to private developers, declaring so-called 'blight removal,' 'urban renewal,' or 'slum clearance' as the justification for eminent domain. They hide behind this 'public use' concept in their quest to acquire property for the private use of developers." «Read the rest of this article»
"Sued for a half million dollars for speaking out…"
"This ordinance is detrimental to the community…"
"The City Council 'rubber stamped' the mayor…"
"I don't think they have a plan…"
"Our Leadership doesn't want to listen to us…."
"CHA is a shadow, not a voice…"
"Preying on minority communities…"
"I've never been to a public forum where the public couldn't speak…"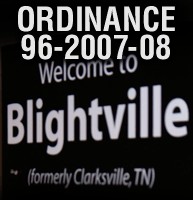 This is what representatives from the United States Department of Justice, the Department of Housing and Urban Development, and the Institute for Justice  heard when they came to Clarksville Thursday to listen to community concerns about the about the city's controversial redevelopment plans. Seventy people participated in a fact-finding meeting at the New Providence Community Center on Oak Street sponsored by the NAACP and the Urban Resource Center.
Walter Atkinson, Senior Conciliation Specialist with the U.S. Department of Justice Community Relations Service (Southeast Region IV), in stating that the meeting was "to hear community concerns," said his role was in part to try and avert "litigation."
"I am here to listen and observe," Atkinson said, noting that it was letters from NAACP Chapter President Jimmie Garland and Terry McMoore of the Urban Resource Center that focused federal attention on this local issue. Atkinson had been "in communication" with Mayor Johnny Piper and with the Downtown District Partnership Board. Piper, DDP members and most sitting City Councilors did not attend this meeting. Jim Doyle, who was not re-elected to his Ward 8 seat, along with newly elected councilors Candy Johnson, David Allen and Jeff Burkhart did attend the meeting and spoke with the Ward 6 constituency. «Read the rest of this article»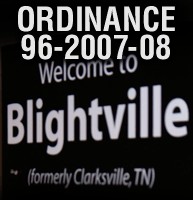 The U.S. Department of Justice and the U.S. Department of Housing and Urban Development (HUD) will host a fact finding meeting tonight on the controversial downtown redevelopment plan, dubbed "the blight bill," including its eminent domain and assemblage issues. The meeting will be held at the New Providence Outreach Center, 207 Oak Street, in Clarksville at 7:00 p.m.
The redevelopment plan was first brought to the attention of federal officials this summer, when local NAACP President Jimmie Garland submitted some concerns to the U.S. Department of Housing and Urban Development. The plan as it was passed contained language that effectively "blighted" the entire downtown business district — two square miles. «Read the rest of this article»
Ford keeps her building and gets more land; conflict settled through private negotiation, not government force
Arlington, Va.— Eminent domain will not be used against Nashville music entrepreneur Joy Ford in a hotly contested battle about the abuse of government for a developer's private gain.  In an agreement signed Tuesday night, September 30, Ford, who has fought eminent domain since June of this year, keeps both her building and obtains more land adjacent to her building along Nashville's storied Music Row while agreeing to give up land behind her office.
"This agreement is a magnificent victory for Joy Ford and all Tennessee home and small business owners," said Scott Bullock, senior attorney with the Institute for Justice, which represented Ford and fights eminent domain abuse nationwide.  "By challenging eminent domain abuse, Joy Ford obtained a landmark agreement where she keeps her building and gets more and better land next to it." «Read the rest of this article»
"Listening to Montgomery County citizens is the purpose of county government." – County Mayor Carolyn Bowers
The county's Redevelopment Ad Hoc Committee met with community spokespersons recently to address concerns about the city's redevelopment and urban renewal ordinance.
County Mayor Carolyn Bowers, County Commissioners Ron Sokol, Martha Brockman and Mark Banasiak, comprise the ad hoc committee on the redevelopment plan at the county level.
The ad hoc group met with a group of citizens representing minority community concerns. Attending were the meeting organizer, Terry McMoore, executive director of the Urban Resource Center; his wife Wanda McMoore; Turner McCullough Jr., a local community affairs and grassroots activist; Jimmy M. Garland Sr., Clarksville NAACP branch president and 3rd Vice President of the Tennessee State Conference NAACP; Candy Johnson, candidate for City Council Ward 5, and Pastor Timothy Grant, Deliverance Outreach Temple.
Mayor Bowers expressed appreciation for the group meeting with the committee to give input of citizens concerns with the redevelopment initiative underway."Listening to Montgomery County citizens is the purpose of county government," said County Mayor Bowers. «Read the rest of this article»
"What kills a skunk is the publicity it gives itself." ~~Abraham Lincoln
On the steps of our historic County Courthouse, a group of grassroots advocate citizens gave voice to an exercise that the founding fathers would have cherished. Members of the Clarksville Property Rights Coalition (CPRC), stood on the courthouse steps to declare their intent to protect their First Amendment Right of Free Speech in their criticism of government.
Bert Gall, a senior attorney with the Institute for Justice, stood with the group to announce that The Institute for Justice has risen to coalition's defense in a defamation lawsuit following publication of an ad by the group that stated that the plaintiffs, Richard Swift and Wayne Wilkinson, are developers and that as developers, they are using the power of government to benefit developers. Gall said that the lawsuit is frivolous on its face and it represents a callous attempt by government officials to silence and intimidate critics among the general public and the affected community in particular.
«Read the rest of this article»
Clarksville activists sued for protesting eminent domain abuse join with national law firm to fight back.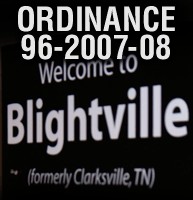 The Institute for Justice will stand with the Clarksville Property Rights Coalition on Monday, June 30, at 11 a.m. on the steps of the Montgomery County Courthouse at Millenium Plaza [corner of 2nd and Commerce Streets], to announce their legal plan to fight back against what they see as a "frivolous" defamation lawsuit filed by Clarksville City Councilmember Richard Swift and Wayne Wilkinson, a member of Clarksville's Downtown Development Partnership. "
Making the announcement will be Bert Gall, Senior Attorney for the Institute for Justice, and CPRC members Debbie Hunt, a homeowner, Joyce Vanderbilt, owner of Kelly's Big Burger, and Dr. Rebecca Slayden-McMahan.
IJ is a non-profit, public interest law firm that has a long and successful history of defending property rights and First Amendment freedoms nationwide.
The CPRC, a grassroots group, was formed in November, 2007, to fight the abuse of eminent domain after a controversial redevelopment and urban renewal plan was passed by the Clarksville City Council. The plan designated two square miles of downtown property as "blighted." «Read the rest of this article»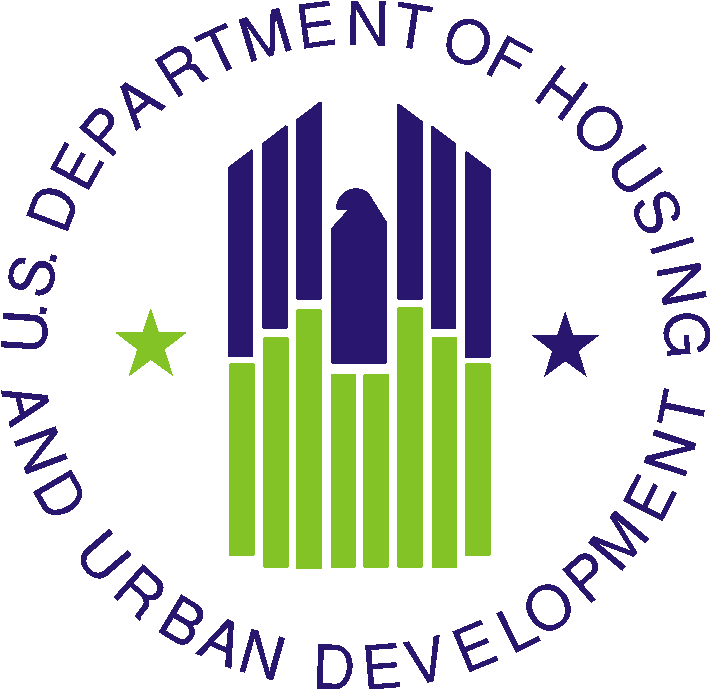 The U.S. Department of Housing and Urban Development (HUD) in response to a complaint filed by the Clarksville NAACP found numerous flaws in the Clarksville Center Redevelopment and Urban Renewal Plan voted into law by the City Council with full support of Mayor Johnny Piper.
HUD authorities could not find any proposed objectives that would provide protection for low to moderate income residents and their property mentioned in the voted on ordinance.
The Clarksville NAACP first bought these issues to the attention of the U.S. Department of Justice and HUD after feeling that the civil rights and the federally protected rights of the Majority Minority Voting Ward was in jeopardy of being dismantled under this voted on redevelopment plan. «Read the rest of this article»
Jimmie M. Garland, President, NAACP #5582, responds to correspondence from HUD regarding the Downtown Redevelopment and Urban Renewal Plan. Mr. Garland directed numerous questions about the plan to both HUD and the Justice Department in May.
In response to correspondence received from the Nashville, Tennessee Office of Housing and Urban Development dated May 20, 2008, the Clarksville Tennessee Branch of the National Association for the Advancement of Colored People (NAACP) would like to thank the Nashville HUD office for its prompt response.

Although several of our concerns were addressed in their response, we feel there is still serious discord between the intent of the Ordinance as approved by the City Council and the understanding the residents have concerning the impact the redevelopment plan will have on their communities.
It is factual that Section 13 of the Tennessee Code Annotated clearly states that certain and deliberate steps must be taken to establish a redevelopment district. In developing the local development plan, the Clarksville City Council has apparently ignored the code, cherry picking areas that meet their objectives. It is troubling to know that the redevelopment plan, as written, does not meet all the objectives of the City of Clarksville five-year consolidated plan. «Read the rest of this article»
Property Rights group faces $500,000 libel suit
Controversial development plan under fire
Councilor Richard Swift, DDP member Wayne Wilkinson claim harm to public image and integrity
Is this a SLAPP suit?
CPRC will "vigorously defend" against "frivolous" suit
Another punch has been thrown in the ongoing battle between the Clarksville Property Rights Coalition and both city officials and the Downtown District Partnership: the CPRC has been slapped with a lawsuit over a dissenting advertisement on the issue of redevelopment.
The suit was filed by Wilkinson and Swift on Friday in the 19th Judicial District, Circuit Court of Montgomery County against the CPRC as an organization and, Pam Vandeveer, individually as CPRC treasurer. You can read the complete text of the lawsuit here at Clarksville Online.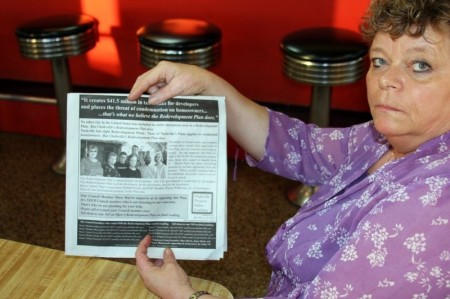 CCRP member Joyce Vanderbilt with the CPRC ad
At issue is the veracity of an ad which ran in the Leaf Chronicle on May 3, prior to the May 8 City Council special session at which the final reading and approval of the highly controversial Downtown Redevelopment and Urban Renewal Plan occurred. The ad stated that Clarksville Mayor Johnny Piper, Councilman Richard Swift and DDP member Wayne Wilkinson as developers who worked for passage of the comprehensive redevelopment plan that would cover roughly two square miles of down town Clarksville and which designated the area as blighted.
The lawsuit charges that the CPRC ad made "libelous" statements against plaintiffs Wilkinson and Swift when the CPRC ad implied that [the plaintiffs] placed their "development interests" above the wishes of the community and their constituency. «Read the rest of this article»