G.H.O.S.T. hosted creepy thrills and a fun night full of treats without tricks. Austin Peay State University student organizations and departments opened the campus to the community to give parents, and children the chance to have a safe time while trick or treating. Students stood in the twilight hours of the fading October sun, dressed in various costumes with spectacular organizational displays.
Some organizations such as the Gay-Straight Alliance (GSA), and Chi Epsilon Mu had costume themes. Those two groups chose vampires and pirates, respectively. Chi Epsilon Mu won the first place prize for their two-story pirate ship playhouse display, allowing members to man the tables, and the vessel in true ship-man teamwork.
G.H.O.S.T., a long-stranding tradition at Austin Peay State University, stands for Greater Halloween Options for Safe Trick or Treating, and is presented annually by the SGA on the last Sunday before Halloween between the hours of 4:30 pm to 7:00 pm. «Read the rest of this article»
"Punishment Park" was directed and written by Peter Watkins circa 1971. Filmed in a documentary style, it is just under 90 minutes. This movie came recommended to me by a friend who has an eye for eclectic movies.
As with most movie suggestions, I checked out the trailer before I watched the movie. The movie trailer I found on YouTube was intriguing, shocking, and contained very little details about the movie's content. I have to admit, my curiosity was peaked, and I went about renting the movie, which is available on NetFlix. The following is the narration of the trailer:
"Under the provision under Title II of the 1950 Internal Security Act, also known as the McCarren Act, the president of the United State of America is still authorized without further approval by Congress to determine an event of insurrection within the United States and to declare the existence of an internal security emergency. The resident is then authorized to apprehend and detain each person as to whom there is reasonable ground to believe they probably will engage in certain future acts of sabotage."
«Read the rest of this article»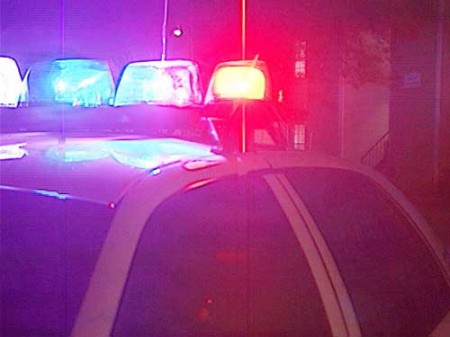 The Clarksville Police Department's saturation patrols (partially funded by the Governor's Highway Safety Office) October 24 and October 25 between 10 p.m. and 4 a.m. yielded the following results:
There were 68 vehicles stopped which yielded 66 charges: 6 DUIs (driving Under the influence); 2 Implied Consent; 1  Failure to Use Reasonable Care; 23 Speeding; 8 Insurance Law; 1 Seat Belt; 9 Equipment Violations; 4 Driver License Violations; 1 Improper Turns; 2 Revoked/Suspended Driver Licenses; 1 Improper Passing; 3 Vehicle Registration; 2 Simple Possession; 1 Public Intoxication; 1 Weapon Charge and 1 Unlawful Drug Paraphernalia.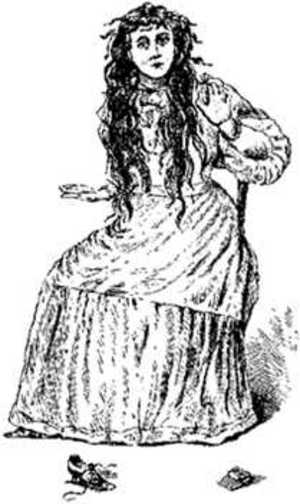 About this time of year when the last of the Autumn leaves turn crimson and start to gather around the welcome mat, the residents that live between the Montgomery and Robertson county line begin to have out-of-towners knock on their door. They come from miles around in search of Adams and its famous attractions, The Bell Witch, The Bell Witch Cave, and David Alford's play "Spirit".
In the early 19th century in what is now Adams, Tennessee the Bell family was tormented by a "spirit". In fact, the only recorded death in U.S. history caused by a Spirit was the death of the family's patriarch John Bell. From the day of John Bell's death up to modern day Adams, the story has been passed down from one family to the other like a cherished family bible.
«Read the rest of this article»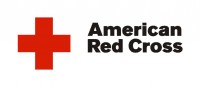 With witches, goblins, and super-heroes descending on neighborhoods across America, the American Red Cross offers parents some safety tips to help prepare their children for a safe and enjoyable trick-or-treat holiday.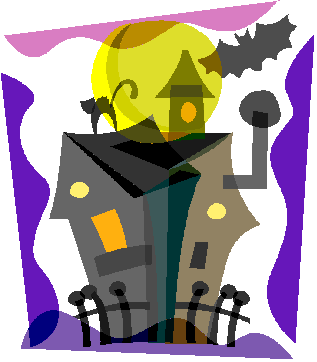 Halloween should be filled with surprise and enjoyment, and following some common sense practices can keep events safer and more fun.
Walk, slither, and sneak on sidewalks, not in the street.
Look both ways before crossing the street to check for cars, trucks, and low-flying brooms.
Cross the street only at corners.
Don't hide or cross the street between parked cars.
Wear light-colored or reflective-type clothing so you are more visible. (And remember to put reflective tape on bikes, skateboards, and brooms, too!)
Plan your route and share it with your family. If possible, have an adult go with you. «Read the rest of this article»
Clarksville Academy held its' Fall Festival Saturday, drawing in over a hundred parents and children for a day of food, games, and fun. With the sunshine and cooler temperatures, strolling around the campus and it's atriums was a pleasant way to pass the day.
«Read the rest of this article»
Even though this tragic story happened in New England, its subject gives parents, all those who work or connect with our children, and all those who see guns as a game rather than a weapon of war, something to think about. This could happen anywhere. This could happen here.
What were they thinking?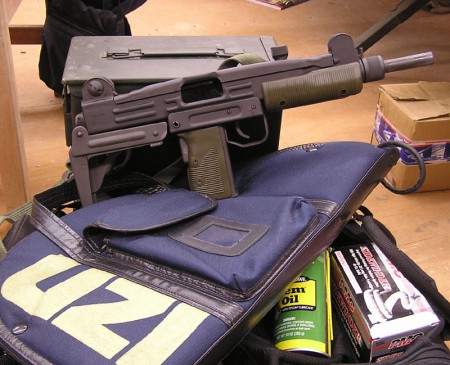 Every time I think I've heard it all, I find that I haven't. This newest jolt came in the form tragedy as an eight-year-old Connecticut boy died Sunday afternoon while participating in a machine gun shoot. You read that right: a machine gun shoot. A game. A contest of sorts. Supervised by gun instructors. At a sportsman's club. The child "lost control" of the 9 mm Micro Uzi machine gun he was shooting; the force of the gun caused it to travel up and back, resulting in a single fatal gunshot wound to the boy's head even as his father was recording the event on camera. The boy's father accompanied his son in the ambulance; the boy later died at Baystate Medical Center in Springfield, Massachusetts. Charles Bizilj, the father, is  director of emergency medicine at Johnson Memorial Hospital in Stafford, Connecticut.
I repeat: What were they thinking? «Read the rest of this article»
The Austin Peay State University Percussion Ensemble will present the 2008 Halloween Concert in two back-to-back performances. The concert, historically a sell-out performance, will be at 6 p.m. and 8 p.m., Thursday, Oct. 30 in the Music/Mass Communication Concert Hall.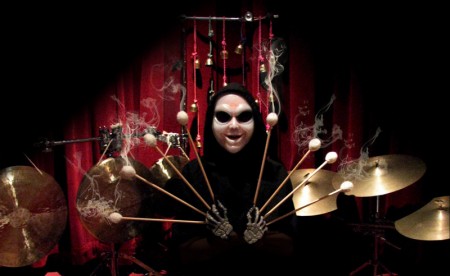 The group performs all kinds of music on all kinds of percussion instruments: classical music such Carmina Burana as used in the movie "Excalibur," rock music such as "Walk Like an Egyptian," music from the movie "Casper" and real percussion ensemble music using instruments from drums, timpani, gongs and cymbals to bells, xylophones, marimbas and chimes. «Read the rest of this article»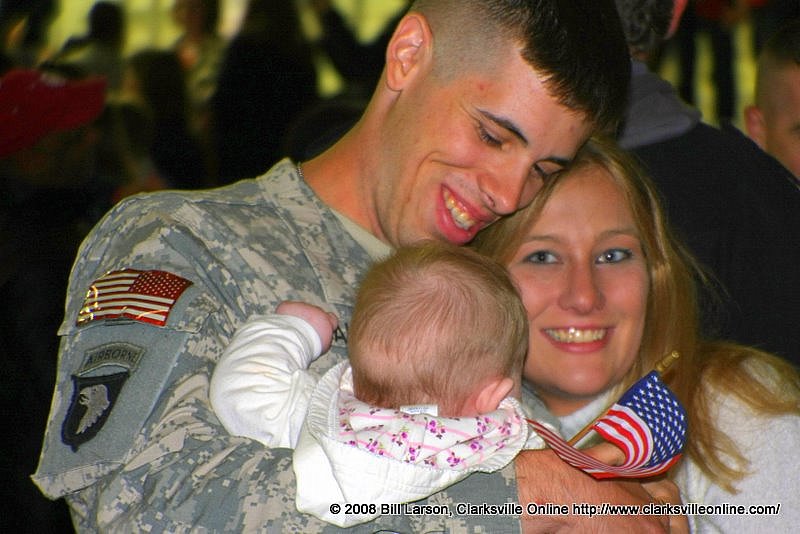 In the dark of night 200 American soldiers, members of the Screaming Eagles of Fort Campbell, Kentucky and Clarksville, Tennessee,  returned home from their tour of duty in Iraq.They landed at approximately 1 a.m., but the late hour did not deter either spouses or children from gathering for long awaited reunions with their loved ones.
After hours and hours of travel, the  soldiers put feet to pavement on U.S. soil, but had to wait through formal ceremonies before the hugs, kisses, tears and smiles could happen. Most poignant were the images of soldiers seeing their babies, born while they were in Iraq.  Even after the families gathered, soldiers were separated and required to take part in a "reintegration" briefing before finally heading home. «Read the rest of this article»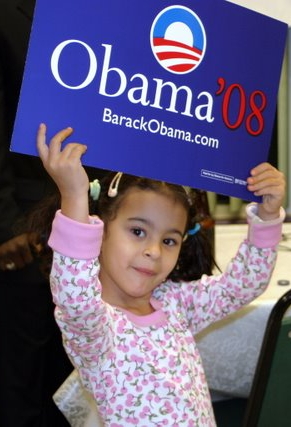 Clarksville For Obama in partnership with the Montgomery County Democratic Party will host a Honk for Barack Obama rally on Saturday, November 1, in front of McDonald's at the intersection of Riverside Drive and N. 2nd Street, Clarksville, starting at 10:00a.m.

Bring your Honk for Obama signs (homemade or rally), wear your Obama gear and come and wave to show your support for OBAMA! This will be the final weekend  before the presidential election.
For mroe information, call 931-552-5523.