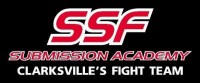 Clarksville, TN – A local, world-class MMA training facility is determined to help our area's soldiers suffering from Post Traumatic Stress Disorder.

SSF Submission Academy is offering MMA classes, along with counseling from certified counselors, totally free of cost to those diagnosed with the condition.

Mixed Martial Arts, simply referred to as MMA, is a full-contact sport incorporating various forms of wrestling and striking and has become one of the hottest sports today.

It has also found an accepting home within the military ranks — understandable considering the highly competitive and aggressive nature of the sport.

Post Traumatic Stress Disorder is an anxiety disorder that can develop after exposure to a terrifying event or ordeal, and it's estimated to affect one in every eight veterans returning home from combat today.

Anecdotal reports from both veterans and MMA athletes highlight the sport's positive benefits for a variety of psychological conditions, including post-traumatic stress and depression.

Case studies have been presented to the Combat Operations Stress Control Conference in San Diego with good reception.

"This program will be no cost, totally off the record and confidential, and no paperwork or insurance is required."  explained SSF Submission Academy's Ron Dayley. "We are honored to give back to our military community by making this program available, and excited about the positive difference MMA can make in this regard."

Classes will be on Thursdays from 4:00pm-6:00pm beginning May 1st and an additional Saturday or Sunday class is planned as well.

For more information, contact Ron Dayley at 931.249.6598.



Sections
Sports
Topics
Clarksville, Clarksville Tennessee, Clarksville TN, Combat Operations Stress Control Conference, Mixed martial arts, MMA, Post-Traumatic Stress Disorder, Ron Dayley, San Diego, San Diego California, SSF Submission Academy, Tennessee