Written by Curtis Johnson
Tennessee State Representative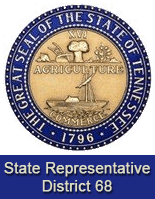 Nashville, TN – The first session of the 110th Tennessee General Assembly adjourned on May 10th, 2017, after passing major legislation that will benefit Tennesseans for generations to come. This is Part 3 of a 12 Part report.
This includes a measure making Tennessee the first state in the nation to offer all adults without a degree tuition-free access to community college; a new law rebuilding a safe and reliable transportation network, while reallocating revenues to maximize taxpayers' return on that investment; and a bill which provides a responsible path to improve access to broadband through investment, deregulation, and education.
Action in the General Assembly also included passage of a balanced budget which takes on no new debt, as well as legislation protecting the elderly, enhancing the state's robust job growth, cracking down on crime, and boosting efforts as the fastest improving state in the nation in K-12 student achievement. Following is a report on key legislation passed this year.
Elderly Abuse
The 2017 legislative session saw the passage of three major bills to combat financial exploitation of Tennesseans who are elderly or have diminished capacity. Approximately one in five seniors nationwide have been a victim of financial exploitation at the cost of approximately $2.9 billion annually.
Moreover, these numbers are likely low as it is also estimated that only one out of every 44 instances of financial abuse are reported.
Elderly Abuse / Financial Exploitation / Securities
The trilogy includes the "Senior Financial Protection and Securities Modernization Act" which provides a pathway for voluntary reporting. It gives civil and administrative immunity to broker-dealers, investment advisers, agents, representatives, and other qualified individuals for reporting suspected abuse or exploitation.
It also allows those individuals to delay disbursements for a certain number of days if financial abuse or exploitation is suspected and authorizes notification to third parties previously designated by the elderly or vulnerable adult regarding any suspected fraudulent transactions. In addition, the new law gives the Commissioner of the Department of Commerce and Insurance authority, under the state's Uniform Administrative Procedures Act, to double current civil penalties against an offender who victimizes a vulnerable or senior adult.
House Bill 304 / Status: PC 424 / Effective Date: Upon becoming law on May 18th, 2017.
Elderly Abuse / Financial Exploitation / Financial Institutions
Likewise, legislation was passed this year which gives financial institutions, like banks and credit unions, tools and greater flexibility as to how they can best protect their customers when there is a reason to suspect financial exploitation of elderly or vulnerable adults is occurring or being attempted. This new law provides new authority for financial institutions to delay or refuse to conduct transactions which permit the disbursement of funds when exploitation is suspected.
It also permits the financial institution to establish a list of persons the customer would like to have contacted if the bank suspects he or she is a victim of exploitation or theft.
In addition, it requires the Tennessee Department of Financial Institutions to consult with financial service providers, the Tennessee Commission on Aging and Disability, and the Department of Human Services to develop a public education campaign to alert the public to dangers of vulnerable adults from financial exploitation.
It has been estimated that 41.4 percent of the offenses of financial exploitation were committed by a family member and another 13.3 percent of victims were described by law enforcement as having close relationships with the perpetrator.
House Bill 1064 / Status: PC 264 / Effective Date: July 1st, 2017. Section 1 shall be repealed on June 30th, 2022.
Elderly Abuse / Financial Exploitation / Classification Higher
The third bill passed this year is the linchpin of the legislative package. The "Elderly and Vulnerable Adult Protection Act" defines and creates the new offense of financial exploitation of elderly or vulnerable adults, including the use of deception, intimidation, undue influence, force, or threat of force to obtain or exert unauthorized control over an elderly or vulnerable adult's property with intent to deprive them of it.
Under the new law, such acts of exploitation would be punished one classification higher than the theft offense of the same value. If charged, a court may freeze assets of the offender up to 100 percent of the alleged value in question. The new statute also requires those convicted be included on the state Elder Abuse Registry.
In addition, the new law includes a provision that requires a court to hold a hearing to preserve the testimony of elderly or vulnerable adult victims. This is a critical new tool for prosecutors to use when defendants attempt to delay a trial in order to have the victim's health or mental capacity continue to deteriorate or even pass away.
House Bill 810 / Status: PC 466 / Effective Date: For the purpose of rulemaking, this act shall take effect upon becoming a law on May 25th, 2017. For all other purposes, this act shall take effect on July 1st, 2017.
Public Guardians / Elderly and Disabled
Finally, the General Assembly passed legislation which establishes a Public Guardian Working Group led by the Commission on Aging and Disability to review Tennessee's public guardianship for the elderly program and make recommendations on how it can be more effective.
The measure also clarifies that background checks on employees or volunteers who come into direct contact with service recipients should be done and provides immunity for any licensed nursing home facility that declines employment to someone based on that background check.
House Bill 415 / Status: PC 427 / Effective Date: July 1st, 2017.
Sections
Politics
Topics
Curtis Johnson, Elder Abuse Registry, Elderly Abuse, Elderly and Vulnerable Adult Protection Act, Nashville TN, Tennessee, Tennessee Department of Commerce and Insurance, Tennessee General Assembly, Tennessee State Representative