The Crocodile Hunter star of the show of the same name, Steve Irwin has died today. He leaves behind his wife Terri, and their two children. He was an educator and helped to instill a love of animals and nature in millions of people, young and old. He was named the "2004 Queensland Australian of the Year", in part for the large number of tourists who visited Australia as a result of seeing his programs.
Steve Irwin died doing what he loved, filming a documentary about Stingrays with the intent of "Demystifying them".
[googlevideo]-2924787400833734135[/googlevideo]
He was killed in a freak accident in Cairns, police sources said today.

It is understood he was killed by a stingray barb that went through his chest and reportedly into his heart .

He was swimming off the Low Isles at Port Douglas filming an underwater documentary when the tragedy occurred…

Irwin had a puncture wound to the left side of his chest and was pronounced dead at the scene. – The Australian News.com
It's always sad when the world loses a unique personality, Steve Irwin certainly qualified.
STEVE Irwin, one of Australia's most well-known and well-loved figures, has died at the age of 44.

It is understood Irwin, a passionate conservationist and wildlife advocate, was killed when a stingray barb went through his chest.

Irwin spent every day working with all manner of dangerous creatures – giant crocodiles, poisonous snakes, komodo dragons – but it was a less obvious hazard that claimed his life.

Irwin had taken calculated risks with all sorts of wildlife for decades, relying on his knowledge of animal behaviour and personal experience to beat the odds.

For someone who spent so much time around killer animals, Irwin seemed to leave a charmed life.

So his demise was all the more shocking because it apparently involved a stingray, an animal regarded as dangerous but not as a killer.

It is understood that Irwin was swimming off the Low Isles off Port Douglas filming a documentary, something he had done on countless occasions.

Irwin, so careful around danger, was taken unawares when the stingray he was filming apparently struck out with its tail, the venomous barbs fatally embedding in his chest.

The death brought to an end a career that began with his father's Sunshine Coast theme park and developed into an international empire in which Irwin was a globally recognised brand.

Born at Essendon in Melbourne, it was a move to Queensland with his parents while a child that shaped Irwin's life, culminating in his fame as Australia's 'Crocodile Hunter'.

Although his father Bob was officially a plumber, and his mother Lynn a maternity nurse, the family's consuming passion was rescuing and rehabilitating local wildlife.

In 1970 the hobby became a full time operation when the Irwins opened the Beerwah Reptile Park.

Irwin recalled how, even with the advent of a formal facility, the family home was itself a mini zoo and wildlife hospital, with makeshift marsupial "pouches" slung over the backs of chairs and snakes stashed everywhere.

The young Irwin came to share his parents' obsession with wild creatures, and he soon displayed an uncanny rapport with them, able to sense their moods and preferences intuitively.

This ability to second-guess animal behavior, coupled with his enthusiastic admiration of Bob Irwin's real life "action hero" escapades with crocs and venomous snakes, led the younger Irwin to try his own hand capturing the risky reptiles.

Though initially alarmed, his father began tutoring him in crocodile capture.

As a young man Steve put these skills to work in the rogue crocodile relocation project run by the Queensland government.

Although he eventually claimed the title The Crocodile Hunter, Irwin's methods differed drastically to those of earlier hunters.

Rather than ending up as table fare and handbags, the crocs bagged by Irwin were later released, unharmed, in a new home deeper in the wild – or at the Irwins' reptile park.

In 1991, Irwin took over the running of the park, now renamed the Australia Zoo, and in 1992 met his future wife there.

American Terri Raines was on a tour of Australia and met Irwin while visiting wildlife rehabilitation facilities.

A whirlwind romance followed, and they were married on June 4, 1992.

The footage, shot by John Stainton, of their crocodile-trapping honeymoon became the first episode of The Crocodile Hunter, which became wildly successful, especially in the US.

In an interview before the birth of their second child, Terri Irwin had this to say about her marriage to Steve Irwin and working together:

"We don't drink, we don't smoke, and we are actually in love and happily married. We love our little girl, we go home to each other at night, and we believe in what we are doing,"

"Say my husband had a dangerous job and I wasn't with him, I don't know how you go, 'Oh honey, how was it with the police department today? You got all your fingers and toes today?' It would scare me. I'd have to become a police officer and work with him; I couldn't do it."

The couple believed their love for wildlife and their dedication to spreading the conservation message was an around the clock duty.

In 2001, Irwin appeared in a cameo role in the Eddie Murphy film Dr Dolittle 2. In 2002, his first feature film, The Crocodile Hunter: Collision Course, was released.

Irwin went on to star in other Animal Planet documentaries, including The Croc Files, The Crocodile Hunter Diaries, and New Breed Vets.

Under Irwin's leadership, his operations grew to include the zoo, the television series, The Steve Irwin Conservation Foundation (now renamed Wildlife Warriors Worldwide), and International Crocodile Rescue.

The Irwins had two children: Bindi Sue Irwin, born on July 24, 1998, and Robert (Bob) Clarence Irwin, born on December 1, 2003.

Irwin caused controversy during a public show on 2 January 2004, when he carried his then infant son in one arm while feeding a chicken carcass to a crocodile with the other hand.

Bob was close to the crocodile, and comparisons were made in the press with singer Michael Jackson's dangling of his son outside a German apartment window.

As well, child welfare groups, animal rights groups and many of Irwin's television viewers criticised his actions as being irresponsible and tantamount to child abuse.

Irwin said any danger to his son was only a perceived danger and that he was in complete control of the situation.

He never backed down over his actions despite considerable public outcry both in Australia and abroad.

His defenders pointed to his several decades of hands-on experience and direct interaction with crocodiles.

Terri Irwin said their child was in no more real danger than a child being taught to swim would be.

In June 2004, Irwin again was the subject of controversy when allegations were made that he came too close to and disturbed some wildlife while filming a documentary in Antarctica.

Animal Planet then released a Crocodile Hunter special called Crocodiles & Controversy, which attempted to explain both the "Baby Bob Incident" and the Antarctica incident.

The special argued that Irwin's son was never in danger of being eaten by the crocodile and that Irwin could not have endangered animals in Antarctica.

Eventually Animal Planet ended The Crocodile Hunter with a series finale entitled Steve's Last Adventure.

The last Crocodile Hunter documentary went for three emotional hours with footage of Steve's across-the-world adventure, visiting locations like the Himalayas, the Yangtze River, Borneo, and the Kruger National Park.

One of Irwin's last projects was for Discovery Kids, in which he developed a show for Bindi Sue.

The show, Jungle Girl, was tipped to be similar to The Wiggles movies.

A feature-length episode of The Wiggles entitled Wiggly Safari appeared dedicated to Irwin, and he featured in it heavily with his wife and daughter.

Irwin will be remembered for his enthusiastic defence of all animals, his open mind and heart and his kindness.

–Sources: News.com.au, Wikipedia, Courier-Mail
You can visit his website at http://www.crocodilehunter.com/, the site for his Animal Planet show , and his Wikipedia entry.
Read the original story from the Courier Mail in Australia, and their obituary for him.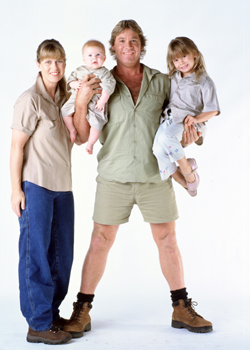 Steve Irwin, and Those he left behind