In a coffee shop in New York City, I talked to Jim, a man who rides a moped on the crowded streets of Manhattan. During our conversation I asked, "What would an ideal world be?" And he replied, "New York City."
New York City holds a diversity of people, culture and places. I spent three days sightseeing in Manhattan in October, and this is what I observed: you rate whether it is good or bad, then see if you can justify why.
Times Square. You can't walk it and not feel the excitement.
Thousands of people are always on the move; it is truly the city that never sleeps — with constant noise, constant traffic, horns honking along with the lights and excitement on Broadway.
Live Theatre. We saw Les Miserables and The Drowsy Chaperone. Not only were they brilliant performances, but they moved us into a new understanding of life, just as a good book would do. There's a box office where people line up to get discount tickets. Every show fills up. A friendly woman told me that there are good prices on matinees for the off Broadway productions.
In New York City, there is an abundance of health food markets, fresh fruit and vegetable markets (pictured right), bakeries, specialty shops, drug stores with everything including the socks you forgot to bring; any kind of store you need is right around the corner. No need — in fact it's a complete hassle — to own a car.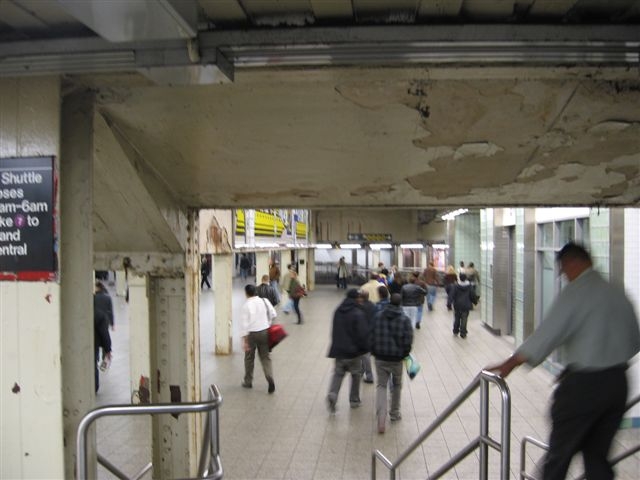 The Subway (the stuff of which legends and horror stories are made) takes you anywhere and everwhere.The subway is crowded, ugly, and the cheapest way that everyone travels. Taxis are an alternative. They're everywhere and they drive like maniacs, come equipped with crash bumpers, but like Jim, the moped rider said, "they're really good drivers." He doesn't fear them, even on his moped. "Everyone who uses the streets of New York has to be very alert." A bicycle-pulled buggy got us to the show on time; while taxis were stuck in traffic, we zigzagged around them.
Restaurants that we observed or went to offered Indian-health food, Pakistan, Asian (with fresher vegetables than what I can buy here), Korean, Italian, Deli's (with sandwiches packed high with meat and often served with a side of sour pickles). The Farmers Market in Greenwich Village offered fresh produce including yogurt, cheese and organic vegetables, pastries and bread – all on sale.
Knights, mounted, in full armor at the Metropolitan Museum of Art
Museums: a long list, all breathtaking. Just one single piece of any display is a treasure beyond comprehension. I spent a day at the Metropolitan Art Museum. I took into consideration the ease with which I am able to view these pieces and the beauty of settings, given the pieces. On this trip, I was able to see some of the Greek, Roman, Medieval, and Ancient works. It was in this museum that as a youth, Joseph Campbell first viewed the mask collection — his mind started wondering onto the comparisons of symbols of different old world religions.
David Boen pauses for a taste of Ancient Egypt at the Met.
People have little to no space, parks are filled, streets are filled, stores, subways. People are crammed into people constantly and generally do not look at one another. When I smiled or said hello to people, they for the most part ignored me. In New York, it's important to own your space and not get panhandled or swindled. Time and space are commodities to be spent wisely.
While there is little physical space, there is an open world of space. Every nationality exists in New York City. Caucasian people are but a fraction, leaving no room for prejudice, no room for short sighted judgments. If you don't want to grow, this can be a scary place.
We heard different languages everywhere: Russian, German, Hebrew, Italian, Spanish, Arab.
Art and culture is alive. When exposed to culture, it changes your life. Everyone is allowed to exist. Everyone has a name and a personality. You cannot demonize them, unless you think you will not ride in a taxi or on a subway or not eat in a restaurant, buy groceries or walk down the street.
NYU in Manhattan. We met an Idaho native attending NYU who, despite the culture shock, was very happy living in there.
Unique architecture often in the form of elaborate churches next to modern high rise buildings, those skyscrapers that seem to touch the sky.
There are jobs galore, but with lots of competition. Things are expensive, but you make more money.
Someone could die and no one would notice. There is no time to stop to care for someone who seems distressed; you wouldn't get through your day. But there is courteousness too. On the subway a young woman gave us her chair; people talked to us when they felt we were safe. If you're buying something in a store or deli, have your money ready. They don't have time to wait or chit chat, and they're willing to tell you so. When you can start a conversation, it is usually insightful, friendly and wonderful. You can't have a hang-up about the F-word; you are going to hear it on the sidewalks, with that strong Brooklyn accent and sometimes by the people in uniform.School buses scream down the streets just like they do here. You can't leave your children unattended anywhere. Day Care facilities take their little ones to the pet store. The kids hold on to a big rope in order to stay together.
Dogs live in the city. They go on walks. You don't see their poop anywhere because it gets picked up by the owners. Dogs are allowed to walk in Central Park unleashed after 6 p.m. until 9 a.m. There are dog playgrounds.
Your purse will not be ripped off every time you walk down the street. You will not be held up if you are walking in Central Park, unless you dare to do so after dark, maybe. The pace for walking down the sidewalk is fast. The pace to do anything is fast. It takes real effort not to match it. Do cross the street if no cars are coming, even if the light is red. Do not cross the street if a car is coming.
The most joyful faces were that of children and their caretakers. I overheard a lot of happiness and well-being in their conversations. And adults slowed down to have those conversations.  Amidst the noise and rush it was a source of beauty.
Photos by Debbie Boen