A little known spy group in Clarksville meets twice a year at Shoney's before the crack of dawn. When their plotting is done they leave at sunrise in several vehicles and drive to different areas of town. During the day they drive and walk every bit of their area and using spyglasses (binoculars) they jot down notes about their victims' private lives. Some of these spies have been operating this secret mission for years and are really good at finding what they are looking for. "It's like fishing in a way," says Elaine Faust. "You are always anxious to see what's around the next corner, by the next tree or in the next field. Sometimes you see things that aren't supposed to be there and that's really exciting."
At the end of the day they celebrate their hard work and discoveries by sharing a dinner of chili. The notes collected there disclose nasty secrets that we may not want to know.
These spies are members of the Audubon society; they have acquired the ability to quickly recognize different types of birds and jot down how many they see. Twice a year, in December and in May, Audubon members gather to do an eight-hour count of birds in this area. Audubon member Amy Wallace says that the Christmas bird count (CBC) is so-named to counter an old tradition of hunters killing as many birds as they can before Christmas.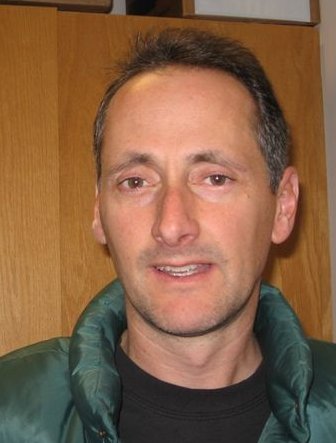 Audubon decided to count as many birds as they can before Christmas. Their counting reports are submitted and tabulated with other reports from around the country.
"I grew up in a family that did this," says Daniel Moss (right). Bird watching comes to him naturally and he has studied and pursued this endeavor all his life. When asked why he likes to do the twice a year bird count he says, "I'm hoping to see things I never saw before. One year I saw a white-tailed kite, something usually found in Texas, and people were coming from all over to see this thing. That was very exciting."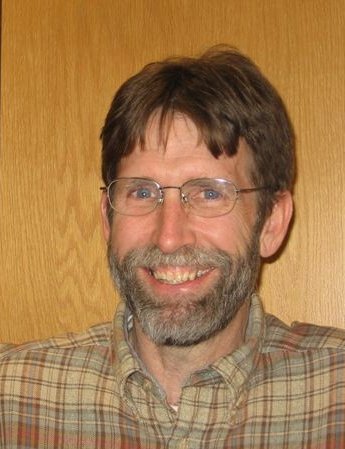 At the Clarksville Audubon's December meeting, Dr. Steve Hamilton (left) gave a visual presentation of data collected from previous bird counts. It showed the long-term trends of the number of birds counted in this area.
The Audubon society publication lists endangered birds. Evidence of endangerment is also clearly seen in the charts that Steve presents. The charts indicate definite trends showing both growth and decline. Reasons for decline start with city expansion knocking out natural habitats and include the removal of native plants from their properties as homeowners replace habitat with other forms of landscaping. Global warming changes the cycles of insects, seeds and other food sources that sustain the birds.
The vulture graph shows an up rise in population as vultures are doing well. Global warming helps them. Their food sources are not threatened, actually enhanced with warming trends. But there are places on the planet, like India, where their vultures have become almost extinct from eating contaminated cattle.
Bluebird numbers are on the rise here, which is a pleasant surprise. It is a native bird often killed out by non-native and aggressive house sparrows. Blue birds nest in the houses we make for them placed on a fence post in open fields. The dip in this graph has to do with some freezing winters, which killed a lot of them. Attempting to explain the rise is difficult; perhaps we are building them more houses to roost in, having more open areas for them to flourish in and having warmer climate is favorable to them.
The American kestrel graph shows a slow decline.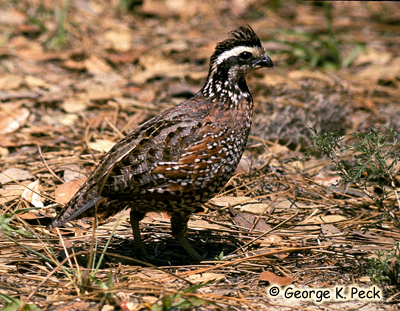 The northern Bobwhite is losing the grassland that they hide and nest in. Since the two empty lots next to our house have been bush-hogged forever, I haven't been visited by Bobwhites. I only knew the elusive quail was around because of their occasional call. The starlings used to imitate that call, sending me running to the window hoping to get a peek of them at my feeder. I haven't heard Bobwhites or starling imitations for a few years.
Redheaded woodpeckers are obviously losing. They are on a dangerous path of decline. So too the downy and hairy woodpeckers.
Seeing a loggerhead shrike would now be a rare moment. Elaine Foust says she once saw a shrike that had a mouse impaled on a thorn on a tree. The bird would not eat the mouse while Elaine was watching. That's one of those exciting things that you never see and it keeps you going when you are out bird counting, she says.
I haven't heard Eastern Meadowlarks sing by our house for several years. Although a common grassland bird, its numbers continue to decline. Unfortunately this graph shows that their absence is not just a fluke.
Also in decline are fox sparrows, common grackles, finches, siskins and many more. Great Blue Herons appear to be in recovery from decline. Knowing it is difficult to find and count the birds makes it hard for Steve Hamilton and Joe Schiller to completely trust these statistics, even when done by such novelists. But even with that margin of error, these graphs show clear growth and decline in bird population and they are confirmed by other statistics within the Audubon society. Even though it's shocking and saddening, it is necessary to know what is going on with our feathered friends.
For Bill and Gloria Milliken and daughter Elaine Foust (at left), loving nature and birds is a family thing. But not all Audubon members go out on bird counts or are experts on birds. Member David Boen says he still has to ask his wife what a mockingbird looks like. "I love the Audubon meetings. They are always interesting and about different topics," he says.
The local chapter of Audubon meets in Clarksville at the APSU Science building (D-126) the first Thursday every month except for in January, June, July and August, (931-221-7783). The Audubon web site is http://www.audubon.org/bird/cbd/