Clean Cut Productions at APSU is making a short introductory film for Dunbar Cave. This film will introduce Dunbar Cave to its visitors and talk about how the cave was formed, its cultural history, and how it is a natural area. The Friends of Dunbar Cave is sponsoring the costs of production.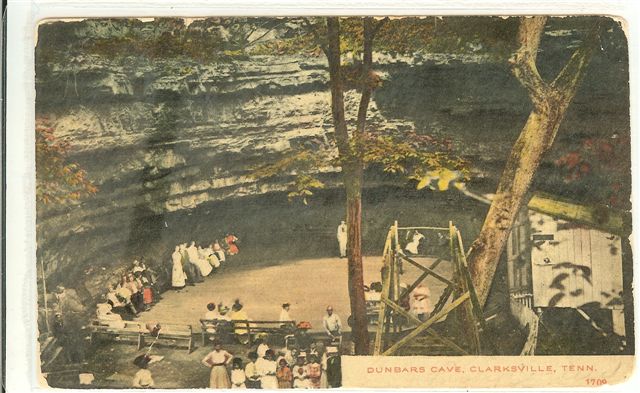 The mouth of Dunbar Cave providing 58 degree natural air-conditioning. Picture taken in 1890 and hand colored for postcard.
"I remember when Dizzy Dean, the famous pitcher turned sportscaster, and Joe Namath, came to a huge golf tournament at Roy Acuff's newly built golf course," (now Swan Lake Golf Course). "They gave out baseballs with Dizzy Dean's autograph on them. I think I still have mine somewhere. That was when Joe Namath had just gone pro," says Jerry Clark in a recent filmed interview at Dunbar Cave State Natural Area.
Jerry was one of 21 people who came to Dunbar Cave recently to be filmed as part of the oral history recordings for Dunbar Cave. Though most people arrived separately to be interviewed, I compiled tiny bits of their stories.
Dunbar Cave was owned as a resort from the early 1900's until the 1960's. The cave entrance provided 58 degree natural air-conditioning and "women came in the day time to play bridge while maids tended the children. Fathers would join them for picnic dinners," says Hazel Edwards Goodlett. She remembers when Dunbar was a place for the well-to-do.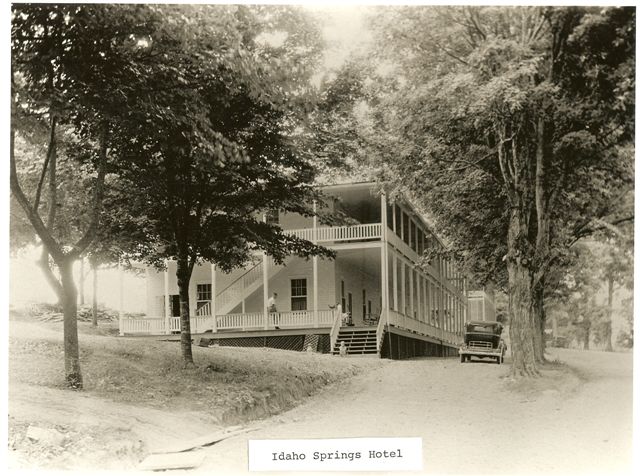 A rare black and white photo of the Idaho Springs Hotel
In 1915 the Idaho Springs hotel was built almost a mile south of Dunbar Cave. The hotel was built and managed by the Tate family and besides the nearby cave it offered three mineral wells located in close proximity. In a day when refrigeration was done with ice delivered from the iceman, this hotel had screens on the windows, which made it a really posh place for its time, says Marguerite Rubel. Marguerite was born in the 1920's and her first memories of Dunbar Cave include riding in a wagon pulled by mules to get sulfur water from one of the three wells at the Idaho Springs hotel. The sulfur water was thought of as a "cure all" for whatever ailed you. "It smelled really bad" but people drank it to prevent malaria and other things. Considering that Marguerite is in her 80's, works full time, is a member of various clubs, is always on the go, and is as sweet as can be, I get the feeling that the mineral waters worked for her. Knowing that Marguerite used to play piano and sing at all the local clubs makes her my favorite swinger. She says that she loved everything she's ever done.
Rachel Tate brought in a beautiful original copy of the Idaho Springs Hotel brochure printed in 1915. Rates were $10.00 a week and up. The brochure says, Things We Do Not Have: We have no mosquitos. We have no malaria.
The stream leaving the cave was dammed to make a lake and around 1931  a pool was built inside of the lake. It had wooden and tin sides. "The floor was slimy. Frogs were in it" says Hazel Edwards Goodlett. Swans were brought into the lake and thus the name, Swan Lake. Paddle boats were put on the lake. "Work yourself to death and it cost about 50 cents which was a lot, so we didn't do that much", says Becky Hunter Orgain.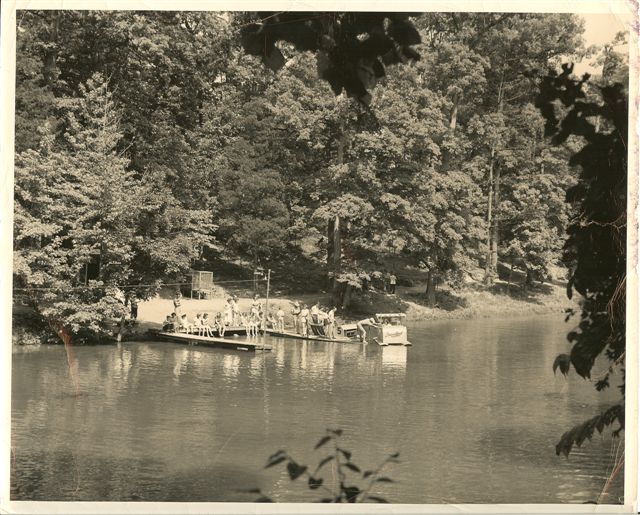 The paddleboat dock, remnants can still be seen at Dunbar Cave.
In 1933, the big pool was built up a hill from the lake. The big pool had three diving boards and a spacious pool house (now the Visitor Center). The west side of the pool house was the girl's locker room and the east side was the boy's locker room.
"We always parked our towels by the east side of the pool near the boy's locker room; I don't know why, do you?" asks Peggy Clouser of her sister Amy Schmittou. "It had the best sun there" they both respond with giggles. Everyone used suntan oil made of baby oil and iodine. Cruelly, they laughed at boys who had "cowboy" tans where the sleeves of their shirts cut off their tan. They tried to catch the eye of the cute lifeguards on duty, wanted the most fashionable swim suits, and rolled down the middle of their two piece suits, "which went up too high!" Music played from the jukebox,  as visitors  played pool games like the one Jerry Clark started. Jerry put a small boat in the pool. One person would get in it and try to go under the diving boards as everyone else was diving in trying to dunk him.
Upper right: Girls sunning near the Boy's locker room entrance to the pool.
"The pool opened at 10 a.m.; we were waiting to go in at 9:30 a.m. The park closed at 6 p.m., we left at 6:15 p.m." This is how the neighborhood kids lived each day all summer. Diane Hunter Albright said, "Momma would ring this cow bell over at our house. That meant it was time for us to go home. One of us kids would climb up on the high dive and yell, "I'm comin" and mother could hear that." Sisters, Becky Hunter Orgain and Diane talk about the jobs they had and how they had a crush on every lifeguard who worked there, among them Jerry Clark and Zoot Parker.
Zoot Parker said, "It seems like yesterday" when kids who knew he couldn't swim threw him into the deep end of the pool. One year later he was a lifeguard. Zoot Parker noticed the bathing beauties who hung out at the pool. "Hollywood had nothing on us". His biggest love was dancing to the Big Band music of Tommie Dorsy, Glen Miller, Duke Ellington and Fats Domino. "Louie Armstrong, wow, did he blow us away". Big Bands stopped in Clarksville on their way to other places. They would also play at the army base nearby so you could hear them two nights in a row.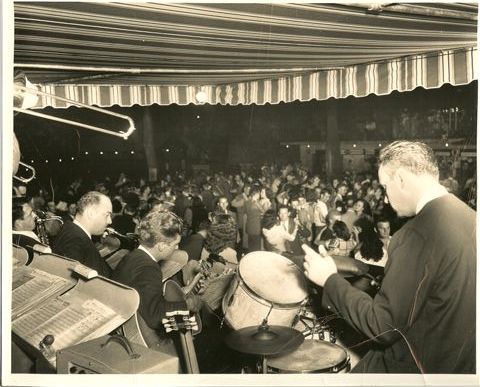 Big Band Era of music at Dunbar Cave
County Historian, Eleanor Williams, shared a time that she made it go right to buy her dress ($10) and dance with all her heart throbs.
Ronnie Hunter said, "While I was at the pool lifeguarding, they'd announce over a loud speaker when cave tours were starting and I must have heard that announcement over 1,000 times."
Brothers Bobby and Wayne Long ran cave tours. Besides pointing out pieces of the moonshine still, they would say that Jesse James made a little mark in the cave when the law was chasing him after a Russellville bank robbery. Don't get excited, they made it up. The Indian art that we just recently verified as genuine was something guides would point to and say, "that was made by Indians".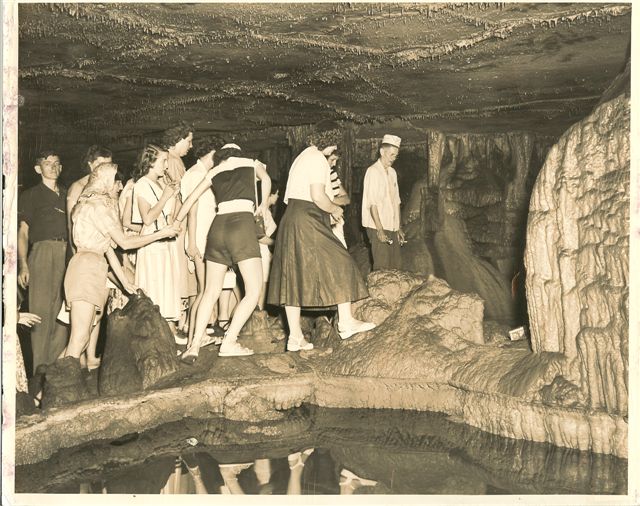 One of thousands of cave tours
Jimmy Dunn's father and crew installed the lights that were in the cave. Jimmy would have had to be born on the cave door to be any closer to being part of the operations there. Along with other jobs, Jimmy managed the cave for awhile.
Most remember the 4th of July parties with fireworks going off by the cave. During the day, parachuters would fall from the sky trying to land in the lake. "I watched out our house window hoping one would land in our neighborhood. When they did, I'd run down to watch them get untangled," says the youngest Hunter sister.
Admission, 20 cents
Mary McDaniel's mother met her father at Dunbar. Sister, Betty Coghill was born in a cabin that was up the hill from the paddleboat dock, very close to the cave. Their dad took tickets at the gate, parked cars or ran the paddleboat dock. There was a bowling alley on the property along with Bingo, food booths and music, always music. Zoot Parker said that someone who worked there kept sneaking the latest music into the jukebox and somehow they got away with it. The kids loved it so much the owners let them keep it.
Rachel Tate stayed in the cave one full night as a civil defense test done when they were in fear of nuclear attack. Locked inside, she was so glad to get out of that cave in the morning.
Roy Acuff bought the cave in 1948. Several people interviewed did not like country music and refused to come see it. While Roy had square-dancing on Friday nights and the Grand Ole' Opry on Sundays, he hosted popular music on Saturday nights and the bee bop eventually evolved into rock and roll.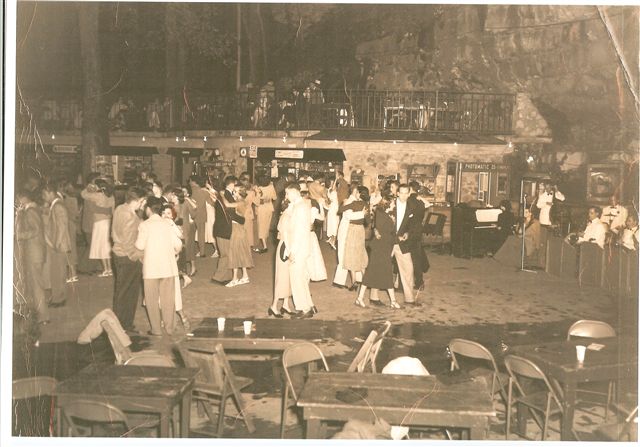 Dancing in the cool temperatures provided by the cave.
Billyfrank Morrison, historian, started collecting post cards of Dunbar Cave in 1976. Through his collections, one sees history recorded. He has printed several books using post card history. The picture in the oldest postcard that we have on file was taken in 1890 says Billyfrank Morrison. He talked about the Idaho Springs Hotel and how it is said that one of Roy Acuff's managers, "was in the grip of the grape" and somehow he burned down the hotel.
Historian, Randy Rubel, who helped Dunbar get ready to do interviews, has an uncle, Frank "Chigger" Rubel who is married to Jacquie Miles. Standing on the high dive and waving on the Roy Acuff brochure, one of the star bathing beauties Jacquie, says, "I know I was (a beauty)!" She came down from the Fort Campbell area as a teen to try and "catch" a Chigger Rubel. One time when Chigger was in the cave by himself, the lights were turned off. His box of matches was spent before he found his way back out.
All who were interviewed spoke about the place as if it was a dream come true. Stuck in a small town far away from the rest of the world, Dunbar Cave brought the world to them. They all say it made them, it was paradise, and it was the best time to be alive.
Part of a dream come true, the State Park remodeled their video room and purchased a video camera in the summer of 2007. Borrowing lights from the Roxy Regional Theatre and using Dunbar Cave's new video camera, Friends of Dunbar Cave members Ronnie Hunter and David Boen jumped at the opportunity to take part in filming people to preserve their experience of history. "We're not done!" says Ronnie Hunter. There are still a lot of interesting stories out there to capture. Though we recently filmed 21 people, only four or fiveof those will go into the short introductory film for Dunbar. The rest will be preserving history on file until we can put them into another film. Call Dunbar Cave State Natural Area if you have a story to tell. (931) 648-5526.
The Friends of Dunbar Cave's web site is: http://www.dunbarcave.org/index.htm