Papal visits or people such as Mother Theresa with her selfless service are the kinds of "big" and human interest stories stories that make headlines and features, but there are many other items in recent "religious news." These are just a few of the many topics to be found:
Dorothy Day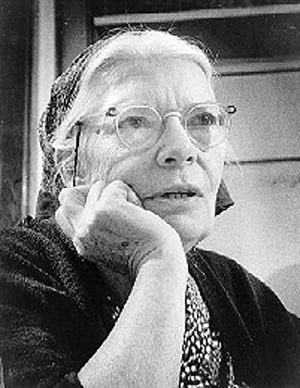 Even though woman aren't ordained Catholic priests,woman can and have made significant contributions to the vitality of their local churches. One such woman was Dorothy Day. Due to her life of self-denial and compassion, she is a candidate for sainthood by the Vatican. Led by the spirit, Day was inspired to live in solidarity with by the gospels, the lives of saints and the teaching of her faith. We hope that Dorothy Day indeed honored with canonization, revered as a saint for a life lived in service to the church and humanity.
Visual storytelling
Many of us are visually oriented, raised in an era of visual stimulation via television and movies. Now the church is recognizing and capitalizing on visual storytelling. Often, seeing rather than hearing bible stories clarifies their message. That's the idea behind Modern Parables: Living in the Kingdom of God, a set of DVDs dramatizing six of Jesus' parables on film. The set includes stories such as the The Sower, The Good Samaritan, and The Prodigal Son. Each presentation is followed by an interpretation in which participants discuss the story and ways to apply in our lives the principles and values of the parable. More information is available at modernparable.com.
If you are interested in participating in such a discussion group on further spiritual development, contact me at mlpmoreland@aol.com.
Rethinking the Commitment
Faith can be used or abused. Personal struggles and crisis of faith alter our attitude and use of faith. To address such spiritual deficiency, a movement is surfacing like the flowers of spring: The Emergents Movement.
To educate us about the "emergents," Tony Jones has writtten The New Christians: Dispatches for the Emergent Frontier. His work and research provides interesting insights into the mergent church/movement, reporting on their chraracteristics, care beliefs, and "individual and community practices that mark this movement of Christians who are dissatisfied with Christianity as usual."
The season of Pentecost has been an appropriate time to evaluate where we are in our spiritual pilgrimage. Over the years our needs change physically, psychologically and spiritually. Spiritual inventory is not a weakness; it is a strength and will precipitate an appreciation of faith.
Dissatisfaction with what is happening in our church and spiritual lives is a component of life. It's okay to rethink and re-prioritize our spiritual goals.
Where are donated dollars going?
Senator Charles E. Grassley (R-Iowa) is also in the news. He is demonstrating courage and fulfilling his responsibilities by initiating a plan requesting financial information from several mega-ministries , an investigation precipitated by allegations that some ministries funded lavish lifestyles for their leaders, spouses and family members. Some of these organizations are resisting and refusing to cooperate. before making a contribution to such ministries, ask the following questions:
What is the basis for my confidence in this organization?
How is it financially accountable to the community?
Sen. Grassley is working to make such non-profit mega-organizations accountable.