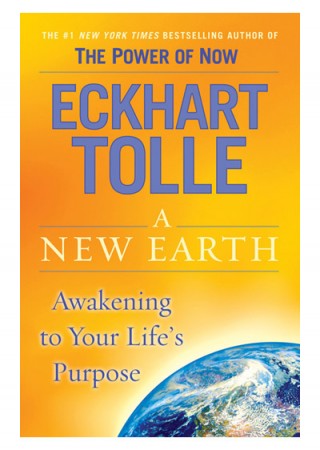 "Try it. You will like like it." I heard this often as I was growing up in the Missouri Ozarks. In many unknown or uncertain situations, this advice motivated me; I found it to be positively true when I volunteered to serve as U.S. Army Chaplain, even though there were hardships and challenges in those 20 years.
I still find this advice helpful in my personal life and in my retirement. In this narrative, I have a recoomendation that you will or will not like.
I am recommending a book that may or may not be your "cup of tea," a book you may not find agreeable. Eckhart Tolle's A New Earth. It is currently a book of the month selection on Oprah Winfrey's television show and may be purchased for the low price of $14 (plus tax). Before spending your hard -earned cash on it, remember I do not guarantee that 'you will like it." The very opposite is the expected outcome because of provocative insight into our personal lives and what makes us "tick" psychologically, physically and spiritually.
It contains modern interpretations of our dilemma as children of God. Though not exclusively a book on religion, it does provide epiphanies about spiritual experiences, challenges us to a mature faith and discovery of a serendipitous depth to our personal faith.
Reading a few chapters "may or may not" contribute to the development of your theology. A word of caution: Reading A New Earth can only be accomplished through an act of discipline and with pauses every three pages or so to meditate on what was read, It takes more time to read than a popular western such as the Zane Grey novels.
A few intriguing quotes from the book include:
"I assign myself the role of victim."
"What is commonly called 'falling in love" is in most cases an intensification of egoic wanting or needing…"
"In the modern world, more and more people are confused as to where they fit in, what their purpose is, and even who they are."
"The greater part of most people's thinking is involuntary, automatic and repetitive."
A New Earth is the text for study/discovery group at the University United Methodist Church in Lincoln, Nebraska. This fellowship, meets for discussion, mediation, and spiritual renewal. If you are interested in forming such an interesting, soul enriching activity in Clarksville, e-mail a reply to me via my Clarksville Online e-mail listed below.
Read A New Earth; you may find it a stimulus to your understanding of faith. I am also interested in your opinions of Chapters 1 & 2.
Editor's Note: The Oprah Winfrey Show is sponsoring a repeat of the ten week online course of A New Earth. Check out the website for details and registration. The book is available at local bookstores. The workbook pages for the Oprah program can be downloaded from the website.