Despite the hot muggy weather, Civil War re-enactors donned heavy Union and Confederate uniforms for a gathering and simulated battle at Fort Defiance Saturday; the event continues through Sunday afternoon. Although Clarksville history does not record such a battle, the re-enactors offered a glimpse of history, emulating battles fought in other parts of the south in the War Between the States.
Cannon fire [Photo by Mark Haynes]
A highlight of the day was cannon fire; In the heat of the afternoon, soldiers tamped the powder into the cannon and loaded it, pulling the trigger from a short distance away, flinching from the boom and the smoke as each shot was fired.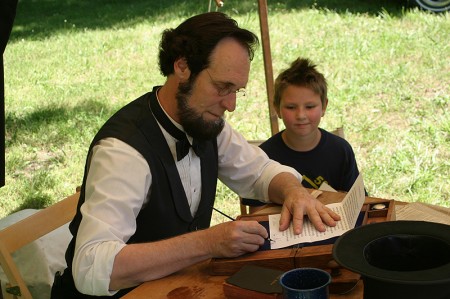 Canvas tents were tucked into the landscape, taking advantage of a bit of shade under the trees. In the shelter of a tarp, "Abe Lincoln" (above) sat a small table littered with papers. The camp doctor's case of apothecary items was open for display, as were the elements for cooking over open fires.
Set apart from the battlefield, visitors could watch wool being spun, samples of women's clothing from the Civil War era, and myriad items from our collective history were on display. There was no shortage of Civil War enthusiasts ready to discuss this vital part of American History.
A Civil War symposium was held from 11-2 on Saturday, with a number of speakers addressing wartime issues, local history and chronology of the Civil War.
The four acre Fort Defiance park features earthen fort and walking trails. The Fort is located at 120 A Street in Clarksville.
We offer a glimpse of history revisited in the following photos: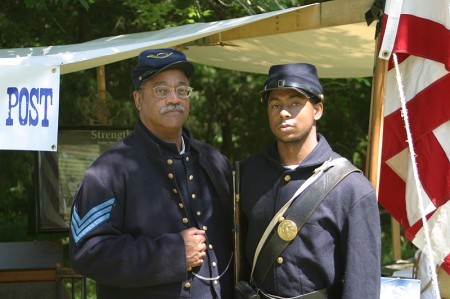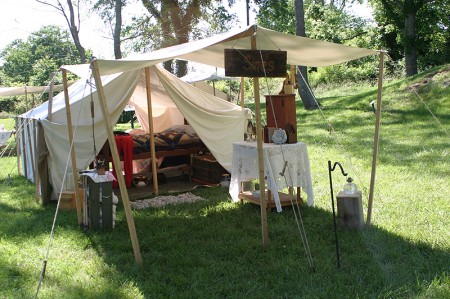 Photos by Mark Haynes