The work of APSU Professor of Art Kell Black will be featured later this month at the Frist Center for Visual Arts in Nashville. Black is one of four artists whose black-and-white drawings are part of an exhibition, titled "Shades of Gray: Four Artists of the Southeast." The show opens June 20 and continues through Sept. 21.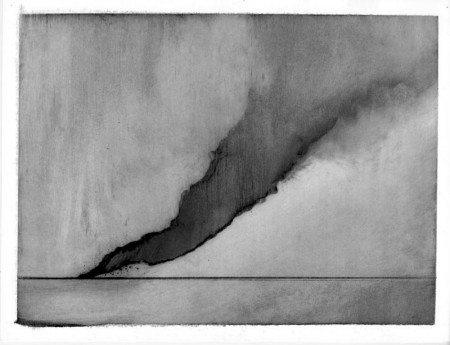 Kell Black,Drawing for Boys (Crash), ca. 2002, Charcoal, graphite, and olive oil on paper, 8 ¼ x 10 3/4 [Courtesy of the artist}
The work was conceived to counter the exhibition, "Color as Field: American Painting 1950-75," in which form and content are unified through the broad application of brightly colored areas of paint. Artwork in "Shades of Gray" includes gray, white and black, with the picture plane suggesting spatial ambiguity, mystery and personal and social narratives.
In creating his aviation-themed drawings, Kell Black (whose work was first seen at the Frist Center in the Art of Tennessee exhibition in 2003) employs unconventional techniques to reproduce the sensation of natural forces such as clouds, smoke, sunlight and shadow.
At left, Kell Black, Drawing for Boys (Dog Fight), ca. 2002, Charcoal, graphite, and olive oil on paper, 10 ¾ x 8 ¼ [Courtesy of the artist]
The surfaces of the larger works are animated by loosely applied charcoal, ghostly erasures, areas darkened by acetone and even holes in the paper where Black placed the works on a pebble driveway and ran an electric sander over them. Once he has established the atmosphere of these drawings, Black often evokes a sense of impending threat or loss by rendering zeppelins or airplanes as if suspended in their stormy surroundings. In the smaller works, Black combines charcoal with olive oil to evoke the fading photographs of early aviation history, while also suggesting the way forms emerge out of, and melt back into, the fog of memory.
On Friday, August 22, at 7 p.m., Black will lead an informal conversation (included with gallery admission) about some of his work presented in the exhibition Shades of Gray: Four Artists of the Southeast. Visitors may also enjoy music in the Grand Lobby, martinis, wine and other beverages at the cash bar and visiting with friends.
In addition to Black, the other three artists in the exhibition are Sue Mulcahy from Volunteer State Community College, Gallatin; Jane Allen Nodine, University of South Carolina Upstate, Spartanburg, S.C.; and Carol Prusa, Florida Atlantic University, Boca Raton, Fla.
To Sue Mulcahy, the materialism of contemporary culture limits the individual's capacity to fully enter the natural flow of life. Emphasizing the value of intangible experiences, her abstract charcoal drawings are, in her words, "spontaneous reflections exploring the spirit of nature; listening to nature in an attempt to tease out her textures, moods, rhythms and compositions."
Mulcahy begins each work by loosely applying charcoal to the paper with no pre-established image in mind. Using her fingers and various drawing tools, she then manipulates the charcoal, adding dark gestures, patterns or shapes to some areas, and in others removing the charcoal (often with a vacuum cleaner) to suggest the play of light over mysterious patches of shadow. Throughout this process, Mulcahy remains alert to visual surprises that might unexpectedly take her drawings in new and interesting directions. In her finished works, forms that appear to be only partially coalesced emphasize the importance for Mulcahy of becoming rather than being, transition over resolution.
The primary medium in Carol Prusa's drawings is silverpoint—the same drawing tool used by old masters such as Leonardo da Vinci and Albrecht Dürer—which produces a line of great subtlety and luminosity. Her works evoke other art historical aspects as well, from botanical, anatomical and cosmological diagrams to Baroque furniture design and Celtic knots. Prusa's frequent use of a circular or hemispheric format emphasizes the integration of the microcosm and macrocosm. This relates them to the tradition of the mandala, which in Hinduism and Buddhism is a circular diagramming of the cosmos and all that it contains.
Prusa's repetitive sequences of organic patterns allude to mathematics, a field of study she views as the best means of exploring and articulating the universe's ultimate adherence to definable principles. Yet Prusa does not necessarily deduce an ordered human destiny that abides by the rules of logic. She recognizes that beyond the bounds of reason lies mystery. With their sense of fading and distressed surfaces, her drawings are elegies of vulnerability and loss.
As icons of domesticity and commerce, Jane Allen Nodine's tightly cropped images of men's shirts evoke both the people who wear them and those who manufacture, sell, clean and fold them. As expressions of her wish to project transcendent meaning onto everyday ritual, she writes that her works "evoke memories associated with specific activities or events related to such items of apparel. The ephemeral qualities of fabric, such as staining, tearing and wrinkling, must constantly be managed through washing, cleaning, ironing and folding. The cycle of attempted control over the fabric, garment shapes and wear-ability … serve[s] as a metaphor for daily struggles that seem repetitive and cyclical."
The ghostly human presence implied by Nodine's shirts has precedents in Dadaism and Pop art, in which everyday objects are used or reproduced to stand in for the person who would use the object. In the Vesture series, the subtle accumulation of densely layered marks suggests a reflective relationship between the artist and the person for whom the shirt functions as a surrogate. In contrast, in the Camice series, the marks are graffiti-like and free form, independent of the restrictive geometry of the shirts' folds, collars and borders.
All four artists are members of the Southeastern College Art Conference, an organization of art faculty who promote the importance of art in higher education and in the community.
At the Frist Center, Sunday, August 17 is Family Day, with free admission from 1-5:30 p.m. Family and friends will enjoy a fun-filled day of excitement of special art making activities, live music and dance performances. Check out the large, breathtaking canvases of the Color As Field: American Painting, 1950–1975 exhibition and the black, white and gray drawings featured in Shades of Gray: Four Artists of the Southeast. Head upstairs to experience the exquisite display of many of the lamps and stained glass of Louis Comfort Tiffany in the exhibition Tiffany By Design.
The Frist Center for Visual Arts is accredited by the American Association of Museums. The Frist Centeri s located at 919 Broadway in downtown Nashville, The Frist Center's Martin ArtQuest Gallery features more than 30 interactive stations relating to Frist Center exhibitions. Gallery admission to the Frist Center is free for visitors 18 and younger and to Frist Center members. Frist Center admission is $8.50 for adults, $7.50 for seniors and military and $6.50 for college students with ID. Thursday evenings, 5–9 p.m., admission is free for college students with a valid college ID. Discounts are offered for groups of 10 or more with advance reservation by calling 615.744.3246. The Frist Center is open seven days a week: Mondays through Wednesdays, and Saturdays, 10 a.m.–5:30 p.m.; Thursdays and Fridays, 10 a.m.–9 p.m. and Sundays, 1–5:30 p.m., with the Frist Center Café opening at noon. Additional information is available by calling 615.244.3340 or by visiting our Web site at www.fristcenter.org.