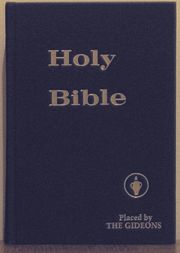 One of the benefits of a U.S. Army Chaplain's career was the opportunity to become friends with Jewish personnel, chaplains and retired officers.
Chaplain Joe Messing, of the Jewish faith, was one of my favorite Post Chaplains. At Fort Bliss, he was our religious leader and supervisor as Post Chaplain, attaining the rank of colonel or "full bird," a rare achievement in the Army. He was fully qualified for both position and rank; many of us, during his sojourn, wished for him a promotion to General and selection of Chief of Chaplains.
My life was enriched through fellowship with Jewish active duty and retired soldiers. Having such a healthy relationship with them, I am disturbed by the discrimination against students in Texas who adhere to the Jewish faith.
In a story from Church and State News, I read that Plano, Texas, students were pressured by classmates to pick up copies of the New Testament and were taunted when they declined.
"The fuss started after Gideon's International, an evangelical Christian group, used display tables in 12 Plano schools to offer free Bibles. The Dallas Morning News reported that the evangelism effort sparked interfaith tension.
"Probably the one I hear most was was 'If the Bible touches you, like, will you burn or something?' said 16-year-old Vines High School Sophomore Jeffrey Lavine."
Lavine said he played down the comment as a joke, but noted that it was "meaner" than what he was accustomed to. School officials said a federal judge's order on distribution of materials in schools meant he had to allow the Gideon's access. Superintendent Doug Otto reported that a 1999 court ruling mandated equal treatment of outside information coming into the school.
"As long as some people have access to the distribution table, all people have access. That is the policy, and we're trying our best to make people aware of it. We certainly don't want people to think we endorse one religion over another." — Supt. Doug Otto
Points to consider from this story are several and serve as a guide in relating to our friends who are of a different church or faith group. First, the school must avoid further controversy by having the Bible distribution off school property. Any well-meaning group has no privilege to distribute literature on school property. Second, the Americans United is for Bible distribution if done responsibly and not on public property. They have no fight with the distribution of the Bible, but do object to it taking place in a public school. Third, though in the minority, these Jewish students have rights to be protected. Fourth, the principal of the school should cancel any such program that creates this kind of dissension.
As citizens we will face periodic faith challenges as to the rights of minorities. our community is better when we request and even defend the rights of our Jewish citizens, and citizens of all faiths beyond our own.