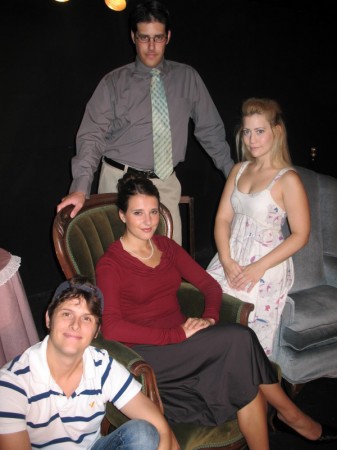 Bradley Vile from the Roxy Regional Theatre has written and is currently directing a one-act piece entitled Fostered Ideal, which will be presented in theotherspace on August 15-16 at 6 p.m.
The play concerns the Foster family and their perpetual struggle to maintain the ideal family image throughout the last five decades. They ravenously defend their obligatory family relationships despite their total lack of communication or recognition of love.
The play features (pictured at left) Bryan Davis as the Son, Harmony Livingston as the Mom, Brendan Cataldo as the Dad, and Beth Koperwhats as the Daughter.
theotherspace at the Roxy is a smaller theater dedicated to presenting alternative plays and staged readings of new anddeveloping oworks, and has hosted some superior works in development .