The DAC Inaugural art exposition event serves as prelude to annual Riverfest festival and promotes independent celebration of the visual arts and the art community.
The Downtown Artists Co-op hosted the inaugural of the Regional Juried Art Exposition on September 4. DAC's Franklin Street showroom was filled with over 300 pieces of art submitted for the exposition.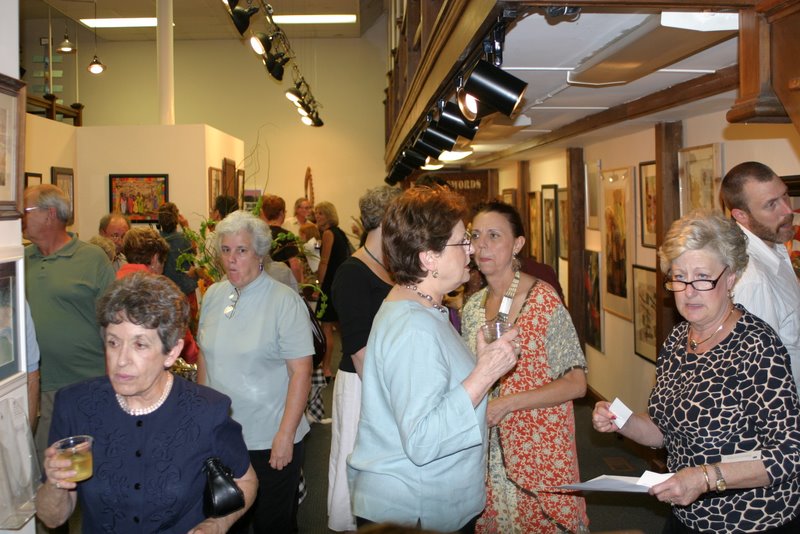 "The submission response to this inaugural competition was greater than expected. We hope for even more next year," said Betty Liles. She explained that in non-juried expositions, every submission is displayed and a judge selects the winners. Entries are submitted mostly from local or immediate regional community artists. In a juried exposition, selections are received from a wider area, often from outside the state, are viewed by a panel of art experts for inclusion in the exposition or rejection and then are judged by the various specified categories.
The winner of the inaugural Regional Juried Art Exposition 'Best of Show' is Lessie Venardo Dixon of Gallatin. His painting, an oil portrait titled Harvest Time captured the $500 prize. He has been painting for over four years and has been drawing since his early childhood. He developed his talent progressing from pencil and charcoal to pastels, to watercolors and acrylics. He met Dawn E. Whitelow and Michael Shane Neal who directed his focus and mentored him in portraiture. He said his ultimate goal is to win the Portrait Society of America competition in 2009. It's an annual event which happens before the Regional Juried Art Exposition.
In addition to Dixon's best of show award, the exposition awards listing include four categories with the following winners: 3D/Fiber Arts- 1st Place, Konstantin Jatropius, Crucified; 2nd Place, Sarah Hightower Hurst, Dreaming in the Wind, 3rd Place, Shelia Caspino, The Color of Money; Mixed Media- 1st Place, Rickey Williams, Psalm 23; 2nd Place, Claudia Balthrop, Untitled; 3rd Place, Brandt Hardin, Scared Texts: Clear/Balance; Honorable Mention, Charles V. Bennett Jr., Sound the Battle Cry.
In the category of Painting/Works on Paper, besides the best of show award: 1st Place, Jason Daniel Jackson,On the Rocks; 2nd Place, Eleanor Baker, At the Old Time Fiddlers' Jamboree; 3rd Place, Karen Enright, Summertime…and the living is easy; Honorable Mention, Richard L. Milam, Eat Your Greens. In the photography category, 1st Place-Mitzi Cross, Portrait of a Woman; 2nd Place, Winnie Bagley, Untitled; 3rd Place, Beverly Parker, Flowers at Customs House; and Honorable Mention, Richard Pugh, Waiting.