"Brother against Brother. Democrat against Democrat. The Republicans don't need to defeat the Democrats – they're doing that all by themselves." ~~ Beth Robinson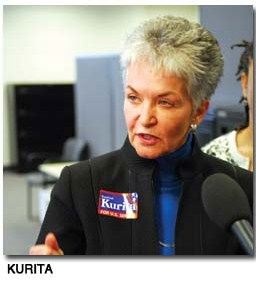 Some long-time Democrats become "Incurably Uncertain" about remaining in their own party after Kurita's election win was discredited on September 13. The eight hour session which seemed to most observers to be a sure win for Kurita ended with a 33-11 vote to null and void Kurita's Senate election win.
When this decision was announced, APSU Associate Professor of Biology, Dr. Joe Schiller, told the officials in the room that "they had been instructed to vote based on the evidence and facts, not on retribution and revenge". He was asked to leave the room. Feeling disenfranchised, he told me that the whole event was a miscarriage of justice and he is seriously reconsidering his party affiliation. "If it is a Republican conspiracy when Republicans vote for Democrats, that's a conspiracy I'd like to have."
"There was no proof. It was a Scopes monkey trial. It was embarrassing", said Beth Robinson, a Clarksville computer systems analyst and member of The Climate Project. "This reminds me of the Supreme Court ignoring the voting public and handing Bush the White House despite the fact that Gore received more votes." Beth said she'd like Senator Kurita to explore a write-in campaign and possibly run as an Independent.
R. Neal wrote his view on the case in the Tenn Views web site. He includes a link to Kurita's attorney's response to the Barnes challenge, which you can read here or at http://www.tennviews.com/files/kuritachallengeresponse.pdf Neal writes that Barnes filed a challenge, citing a litany of alleged irregularities. Kurita filed a response refuting them point by point. Read the rest of Neal's article at http://www.tennviews.com/node/3882. «Read the rest of this article»
Inter – prefix: (1) between, among, in the midst. (2) reciprocal. (3) located between. (4) carried on between.
Denominational: a religious organization uniting local congregations in a single legal and administrative body.
"When the government associates one set of religious beliefs with the state and identifies nonadherents as outsiders, it encroaches upon the individual's decision about whether and how to worship?Allowing government to be a potential mouthpiece for competing religious ideas risks the sort of division that might easily spill over into suppression of rival beliefs." ~~ Supreme Court Justice Sandra Day O'Connor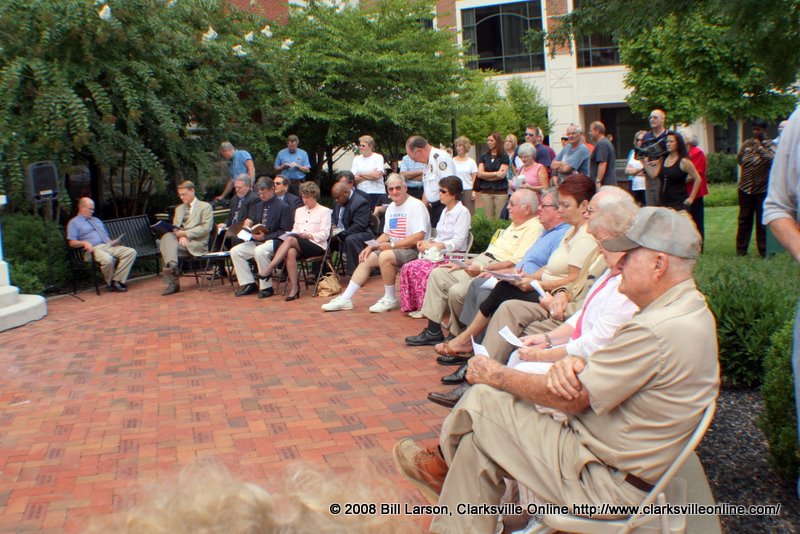 In downtown Clarksville on Thursday, September 11, congregants and legislators from varied Christian churches across the county gathered. The implied purpose of the gathering, part of a nationwide movement called Cry Out America, was to acknowledge the tragedy of September 11, 2001, an event that cost America the lives of 3,000 of its citizens on home territory, precipitated the war in Iraq and Afghanistan, which cost this country thousands of live lost or irrevocably maimed, and dug a deep hole of nearly insurmountable debt that our children will have to pay. «Read the rest of this article»
From Mudflats: Tiptoeing through the muck of Alaskan politics, a popular political blog for the 49th state, home of Republican Vice-Presidential Candidate Sarah Palin. This blog and related photos was posted 9.14.08 and is reprinted with permission.
I attended the Welcome Home rally for Sarah Palin this morning.  Hooo.  It was an experience. About a thousand (maybe) hard-core Palin supporters showed up to hear her speak at the new Dena'ina Convention Center in downtown Anchorage.
After shaking it off with a good double shot of espresso, and a brisk walk back to my car, it was time to head to the Alaska Women Reject Palin rally.  It was to be held outside on the lawn in front of the Loussac Library in midtown Anchorage.  Home made signs were encouraged, and the idea was to make a statement that Sarah Palin does not speak for all Alaska women, or men.  I had no idea what to expect.
«Read the rest of this article»
The Montgomery County Democratic Party in Partnership with Clarksville For Obama will host a Campaign Fundraiser and Rally for Barack Obama on Thursday, September 18, at 5:30 p.m. at Machinists Union Hall Building, 121 Union Hall Road,  Clarksville (behind the Wyatt Johnson car dealership on Wilma Rudolph Blvd).
Special guests include Kim McMillan, Former Majority Leader, Tennessee House of Representatives; Joe Pitts, Tennessee State Representative (District 67); Jerry Martin, State Campaign Director for Barack Obama; Wade Mundy, Communications Director, Tennessee State Democratic Party; and Jerry Lee, Tennessee AFL-CIO Union President.
The MCDP and Clarksville for Obama will serve food and refreshments. the event is open to the public and a $10.00 or higher donation is requested. For additional Information, call 931-378-1999
Upon hearing of the City Council decision to eliminate the traditional parking meters and implement a "park and display" to pay for downtown parking fees, I felt my stomach curl. That is a second reason NOT to go downtown. Nothing is more annoying that than the back-and forth run those infernal machines.
The first  reason, and by far the stronger reason, not to go downtown is the abyssimal lack of handicapped parking, Designated handicapped parking.
Let me preface with the statement that I am a huge fan of old-fashioned Main Street shopping. User friendly Main Street shopping. Shops such as Hodgepodge, streets such as Franklin Street,  are a "breath of life" for someone like me, used to and loving huge unique Main Streets with a marvelous diversity of shops,  manageable, accessible parking and park benches galore. I love small locally owned businesses. I avoid malls as if they dispensed bubonic plague. «Read the rest of this article»
While oil prices dropped below $100 a barrel, local gas prices and prices across the nation either stayed put at the panic level, continued to rise, or in a few cases, "dried up." The "out of gas" signs have begun popping up in Clarksville.
At Mapco (left) in New Providence, any gas that's left will cost $4.25 for regular unleaded.
At the Kangaroo Mart in New Providence, an employee, Latoya, said  that her boss hadn't raised prices; she wasn't sure why, but they had experienced much higher than normal gas traffic as a result. «Read the rest of this article»