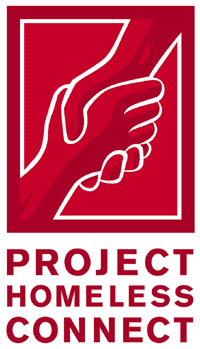 "Never look down on anyone, unless you are helping them up."
Project Homeless Connect 2008 will be our fourth year of working together to engage the general public towards innovative solutions to homelessness. Our goal is consolidate available services and connect individuals to benefits, medical care, substance abuse and mental health counseling and a variety of social services which can help lead to pathways to housing and self sufficiency.
Clarksville is one more than 170 cities across the country taking part in Homeless Connect by hosting an event to link  will hold an organizational meeting Nov. 21at 11:30 a.m. in the conference room of the Office of Housing and Community Development in Clarksville. This meeting will be the final planning session for the 4th annual Project Homeless Connect update  to be held on December 5, 2008 from 12:00 Noon-4:00 p.m. at the Clarksville Montgomery County Library, 350 Pageant Lane, Clarksville.
Project Homeless Connect is a one-day, one-stop event that provides a broad range of services to people experiencing or at risk of experiencing homelessness. We are seeking groups and businesses to participate in the event by volunteering, providing services, or making donations. Please pass this information along to other agencies,faith organizations and local businesses.
The Homeless Connect 2008 Committee also met last week to formulate a flyer for this event.Participating agencies must RSVP by November 17, 2008.
We have the following needs on our wish list:

Monetary donations: (will be used to purchase one or more items below):
Volunteers: Meet & Greet and intake & information
Items for distribution:
Snacks ( individually wrapped)
We would like to have six prepaid cell phones to give away this year
Hats
Gloves (men and women)
Personal care items, including shampoo, conditioner, shaving cream, razors,toothbrushes, toothpaste, lip balm,
Lotion, deodorant, bar soap, sunscreen, comb, hand sanitizer,
Water bottles
Backpacks
Blankets
Rain ponchos
Umbrellas
Scarves
Bus tokens will be handed out
The coalition is also seeking someone from the Adult Education Center/GED program and Hispanic Community representatives to join in this effort. Volunteers are needed to greet and do intake of persons attending.
Your agency or organization is invited to participate in our fourth annual Clarksville Homeless Connect on December 5, 2008 from 12:00 Noon-4:00 P.M. at the Clarksville Montgomery County Library located at 350 Pageant Lane, Clarksville. For more information on how you can connect call the City of Clarksville Office of Housing and Community Development at 931-648-6133.