Hundreds of volunteers will restore hope for local residents by providing free home repairs.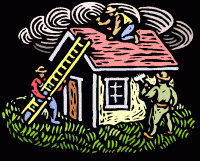 The City of Clarksville Office of Housing and Community Development announced today that applications for the 2009 Good Neighbor Volunteer Home Repair Program are now available  through March 31, 2009.
This year"s program is expected to provide assistance to approximately 40 homeowners. Eligible applications will be accepted on a first come first serve basis. Many low-income homeowners who have lived in their home for years desperately need home repairs but are unable to afford the expense.
Having decent housing- the comfort of a sound livable home equates to peace of mind and helps revitalize neighborhoods. Annually the City partners with local faith based organizations to help revitalize and repair homes for low-moderate income residents. The repairs are funded with grant money from the City"s Community Development Block Grant provided through the U.S. Department of Housing and Urban Development and the labor is donated.
Volunteers work in crews to repair homes of seniors, disabled and low income households. The repairs include roof replacements; exterior power washing painting, ramps, porch repairs and yard clean up.
In the past two years the City's Good Neighbor Volunteer Home Repair Program has assisted more than 25 families. This year the City is pleased to have two faith-based organizations generously donating expertise and time to help local residents.
Through a one-week program sponsored by the North American Mission Board of the Southern Baptist Convention and the Clarksville Baptist Association more than 250 volunteers will help repair and revitalize homes in the City"s special emphasis neighborhoods.
World Changer Volunteers will be in Clarksville from June 27-July 4, 2009.
On September 26, 2009, Grace Community Church, a local congregation will organize over 1000 volunteers to assist homeowners with limited resources by providing fresh coats of paint, roof repairs and critical home improvements. The group will also provide assistance to local non profits and some renters.
These are great programs that improve the quality of life in our community by repairing and redeveloping housing units. In exchange for building materials and coordination from the Office of Housing and Community Development, these faith groups contribute the necessary labor and invaluable skills.
It is the best way to bring together volunteers and public resources to make the most of our funding and invest in our neighborhoods.
Eligible applicants must have owned their home for at least one year, be low-moderate income based on federal guidelines, and reside in the home that is to be repaired. In addition, all city and county property taxes must be paid through December 2008.
Homeowners who received assistance in 2008 are not eligible for this year"s program. Renters must have a lease and the landlord must sign an agreement to allow the work to be performed.
For more information contact the City of Clarksville Office of Housing and Community Development (931) 648-6133 Monday-Friday between the hours of 8:00-4:30 p.m.
Applications are available on the City"s website (www.cityofclarksville.com), Clarksville Montgomery County Public Library and at City Hall, One Public Square, Suite 201.