In a hub of celebratory festivities, Choice Hotels International unveiled its newest extended stay hotel, Main Stay Suites Clarksville. Located in the SW Quad just off of Interstate 24, at 115 Fairbrook Place, the 96-unit hotel offers amenities which place it in direct competition with hotels of a much higher price bracket. Main Stay Suites Clarksville is marketed for the extended stay business professional and military visitors to our area, but many will find its offerings quite appealing, with an allure as a cozy weekend or hide-a-way destination.
All rooms are equipped with a full kitchen including range top, microwave oven, full-size refrigerator, coffee maker and double sinks. Additional appointments include free cable TV, wired and wireless internet access, queen and king-sized beds, pull-out sleeper sofas, phone and additional phone jack, work space writing table, steam iron and ironing board, stacked clothing drawer units. Guests may choose from Standard Single Queen, a Queen Suite, a Double Queen and a King suite in their choice of rooms. The King suites come with dual TV displays.
There are also specially outfitted ADA compliant rooms which include the standard features adjusted for the physically challenged, height-adjusted kitchen facilities and sink and bathrooms outfitted with handrails at the bathtub.
The rooms are spacious and open, avoiding the typical gauntlet effect of most hotel rooms. The entrance does not place the guest in a narrow confining walk-in but rather offers an open view of the room upon entry. The effect is at once welcoming and refreshing. The color scheme chosen for this hotel was made by the partners, with Choice's approval, and differs from the corporation's standard color palette with refreshingly bright yet subtle visual impact.
The art work on display throughout the hotel is modern and visually attractive, ranging from floral designs and still life sculpture to modular wooden and metal hand-worked art pieces to geometric paintings which all complement the overall color scheme to great effect. An air of cheery, uplifting ambiance prevails through out the corridors and hallways, lending the feeling of a personal decorating touch to every area of the hotel. Almost as if you are staying at a friend's well appointed home, as it were.
Main Stay Suites Clarksville offers its guests complimentary amenities that include a conference room- capable of seating up to eight, business center faxing service, a fitness center with cardio workout equipment, indoor swimming pool and outdoor jacuzzi hot tub, and laundry facilities to wash and dry personal clothing. The front desk has your typical functions of check-in, registering and check-out and local area information. Additional to those features is the cooler display of drinks, juices, snacks and microwave entrees.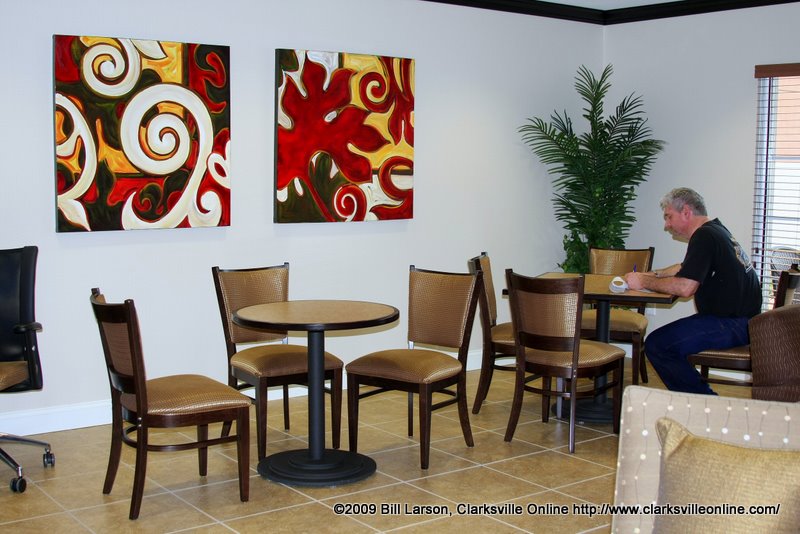 The hotel's location offers guests the added convenience of being situated close to many restaurants including Logan's Roadhouse, Applebee's, Tandor, Rafferty's, Golden Corral, Steak and Shake, The Golden Rule, Old Chicago, Longhorn's and Outback Steakhouse. There is also its proximity to the Wal-Mart Supercenter, Governors Square Mall, Best Buy, Pier 1 Imports, Hampton Square with Kohl's, Red Lobster and Books-A-Million. Further down Wilma Rudolph Boulevard are K-Mart Supercenter, Dollar Tree, Electronic Express, US Bank, Office Depot, Green Bank, Ryan's Grill Restaurant, PetSmart, Harbor Cafe, China King at Lowe's Plaza, Chilli's, Hananoki Japanese Steakhouse, Kroger's, Sam's Club, Cracker Barrel Restaurant and Gateway Medical Center.
Main Stay Suites Clarksville represents the 100th extended stay hotel enterprise for Choice Hotels International. Overall, Choice Hotels International now has 4500 hotel operations in effect. That achievement enhanced the celebration of the grand opening festivities. The ice sculpture centerpiece denoted this landmark in its physical declaration. The hotel has been accommodating guest since opening its doors on March 2nd. The results thus far indicate a warm welcome and steady flow of guests staying at the hotel. Fort Campbell personnel are already making ample use of Main Stay Suites Clarksville.
At the ribbon cutting, Chamber of Commerce ambassadors welcomed the Main Stay Suites partners and Choice Hotels International officials to our area. Charlie Koons, Jack Jackson and Jeff Harris were among the ambassadors who extended welcome to Mike VanStavern, his wife Kim, Mark Randolph, Bob Van Stavern and Mark Burrows.  Kevin Lewis, president of Extended Stay Brands for Choice Hotels International presented the Van Staverns and Randolph with a commemorative award celebrating the 100th Choice Hotels International Extended Stay Hotel.
The grand opening festivities were highlighted by several free give-a-way drawings during the afternoon and early evening. Decorations, floral designs and catering, including a full service bar were provided by K&D Gourmet Catering Designs.. Give-a-way prize categories ranged from $50 Choice Gift Cards, $100 Choice Gift Cards,$150 Choice Gift Cards, 10,000 Choice Privilege Points, 20,000 Choice Privilege Points and 50,000 Choice Privilege Points. The grand prize was a 4-day Carnival Western Caribbean Cruise from Key West to Cozumel and back.
Prize winners are as follows: $50 Choice Gift Card: Bertha Brisson and Carletta Walker; $100 Choice Giift Card: Annetta Sykes; $150 Choice Gift Card: Mathis Banks and Specialist Randy Placher; 10,000 Choice Privilege Points: Jessica Santos, 20,000 Choice Privilege Points: Tammy Delvendall and William Bolin (a hotel guest); 50,000 Choice Privilege Points: Randy Butler. The grand prize 4-day Carnival cruise was won by Specialist Kristin Placher, wife of Spc. Ryan Placher and mother of daughter Joslin. Mike and Kim VanStavern donated the Carnival Cruise as a give-a-way. In a spontaneous gesture of generosity, Mike Burrows donated his personal Air Miles to the Plachers so they may fly down to departure point in Key West, Florida.
Main Stay Suites Clarksville makes a proud addition to the Clarksville-Montgomery County and the Clarksville-Oak Grove-Hopkinsville Statistical Area hotel line-up. It also offers an appealing option for Metro-Nashville-Davidson County visitors as well. Locals with extended family visiting may also find this facility a beneficial option with family gatherings and celebrations just up ahead. It will easily distinguish itself from lesser competitors and rival more costlier enterprises.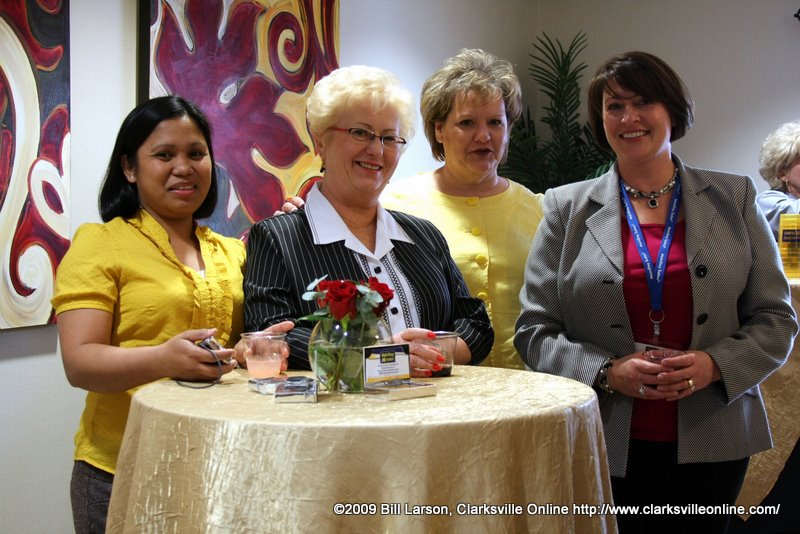 The project team responsible for the innovative rethinking and execution of space utilization include Corbett Sousley-project manager, Chad Nugent-superintendent; Jim Nugent-co-owner. The construction firm is Thomas Construction of Lake of the Ozarks from Missouri.
With a friendly and committed staff, a stay at this jewel will prove both satisfying and treasured. Contact Maggie Moran, general manager, at 931-648-3400/0404. Email her at: ms-clarksville.gm@pmihotels.com.