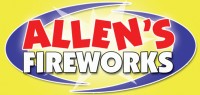 Allen's Fireworks together with Eagle 94.3FM hosted June Boom over Clarksville on Saturday June 6. The event highlights all of the new fireworks available for purchase to celebrate this Fourth of July. JT Daniels from Eagle 94.3 gave out prizes ranging from Fireworks from Allen's to concert tickets.
Allen's Fireworks, is the regions premiere fireworks store. They are not affiliated with the tents you see around town. Fireworks purchased at outdoor tents can be affected by moisture which can can affect the performance of the fireworks. Allen's fireworks are stored in a completely climate controlled environment.  They offers a no duds guarantee on all fireworks. Allen's Fireworks is a family business and has been a part of the Clarksville community for over 63 years.
Check out Allen's Fireworks at their web site at http://www.pyroexperts.com/.
The event was sponsored by The Lodge Sports Pub, Governor's Square Mall, AdOne advertising and The Eagle 94.3