The weekly Clarksville Parks and Recreation Department Recreation Report provides Clarksvillians with a glimpse at the activities and events that are available from the Parks and Recreation Department for them to enjoy together as a family. This weeks highlights include:
Jammin'  in the Alley
Downtown Market
Hershey Track and Field Winners
Fairgrounds Park Closing
Pool Passes
June 13th Concerts in the Park Photos
Jammin' in the  Alley
It's that time again! Clarksville will be Jammin' in the Alley again this weekend, Strawberry Alley that is.
This month's free concert features the Tim Lynch Band. Tim is a local favorite in Clarksville, playing a variety of venues around the city. He will be sure to entertain the crowd with his blend of blues, rock and country music.
Downtown restaurants will also offer outdoor dining to Jammin' in the Alley attendants. The concert begins at 6p.m., but you may want to come early and claim your spot as we expect a large crowd this Friday night. Come ready to eat, dance and have fun!
Downtown Market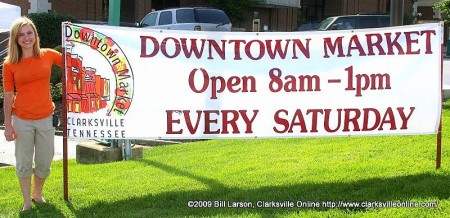 The Downtown Market opened two weeks ago with great success. Thank you to all the vendors and patrons who have come to participate in Downtown Clarksville's newest attraction.
This coming weekend the Downtown Market will celebrate dads. Stop by to pick up a gift for Father's Day or stay and make Dad a homemade photo frame and/or paperweight with members of Clarksville's Arts and Heritage Development Council.
Other items being offered by vendors this week include homemade jewelry, potted plants, home d'cor, produce, baked goods and more. The Downtown Market will take place every Saturday through October 24 from 8 a.m.-1 p.m. We hope to see you again this Saturday!
Hershey Track and Field Winners
Young athletes participated in the local Hershey Track and Field competition this spring. First and second place winners moved on to compete in the District Competition. Winners at this competition were given the opportunity to advance to the state competition on June 20.
Six of Clarksville's very own young athletes will be competing at the state level. Congratulations to Alaysia Johnson, who will compete in the 50 Meter Dash in the 9-10 year-old age group. In the 11-12 year-old girls' division, Bethany Rich will compete in the 100 Meter Dash, 200 Meter Dash, and the Standing Long Jump. Javonte Garrett will compete in the 400 Meter Dash in the 11-12 year-old category. Sha'Ron Campbell will be competing in the 11-12 year-old Softball Throw. Caitlyn Rich will also be competing in Softball Throw in the 13-14 year-old category. Claire Singer, also in the 13-14 year-old group will compete in the Long Jump and 200 Meter Dash.
Good luck to all the participants. We are very proud that you will be representing the City of Clarksville!
Fairgrounds Park Closing
Over the next two years, the current Fairgrounds Park will be completely transformed. The new park will include a marina, ball fields and new recreational facilities.
To make way for construction, the Fairgrounds Park will close to the public tomorrow. Groundbreaking on the new marina and redeveloped fairgrounds is set to begin in July.
Pool Passes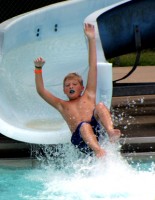 Don't forget! Pool passes to all five of the city's pools are still on sale at the Clarksville Parks and Recreation Office. If you have not already purchased your summer passes, now is the time to do so. For more details on pools and pool passes visit www.cityofclarksville.com/parksandrec or call the office at 645-7476.
June 13th Concert in the Park Photos