'See Me Safe' and Matthew Walker Comprehensive Health Centers Team Up for Child Safety Seat Give-A-Way in Clarksville on June 20th.

Every day in the United States, an average of 5 children (0-14 years old) were killed and over 500 were injured in motor vehicle crashes during 2007. The number one cause of death for children 2-14 is motor vehicle crashes.
Learning which car safety seat to use and how to properly install a car seat is important for all families, especially for families with children ages 4-7. Fifty percent of children of that age group were restrained correctly in booster seats in 2007. Over one in three were in an incorrect seat and 15 percent were totally unrestrained.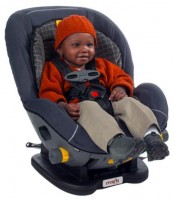 Ford Motor Company Fund, the philanthropic arm of Ford Motor Company, is expanding  their target area by bringing its national child passenger safety seat program, 'See Me Safe,' to Clarksville. Developed in partnership with Meharry Medical College and hosted by Matthew Walker Comprehensive Health Centers, 'See Me Safe' shows families how to properly install car seats through hands-on training and also provides health care providers key information on child passenger safety.
During the demonstration and safety check, certified child safety seat technicians educate families about proper car seat installation and give-a-way over 50 child safety seats. See Me Safe uses interactive education techniques to connect parents, caregivers, and healthcare providers to child passenger safety technicians.
Clarksville's first 'See Me Safe' Child Car Seat Safety Program demonstration and give-a-way will be held Saturday, June 20th, 9 AM to 12:30 PM, at Faith Outreach Church, 731 Windermere Drive. The program is free and open to the public. It is being hosted by Matthew Walker Comprehensive Health Center and Meharry Medical College, along with families from Clarksville.
For more information, contact:  Dell Johnson, (ofc ph) 615-324-9688 or (cellph) 615-491-2470.