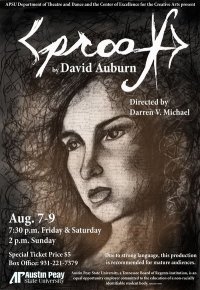 It's said that genius lies between normality and insanity, and in Proof that axiom certainly holds true. The play written by David Auburn, and directed by Darren V. Michael is being presented in Austin Peay State University's Trahern Theatre. With two shows remaining: 7:30pm Saturday night, and 2:00pm Sunday, if you need something entertaining to do for the weekend, I heartily recommend checking out this wonderful Pulitzer Prize winning play.
For years Catherine has cared for her father Robert, a mentally ill math professor. Catherine worries that she may be fated to share his illness. The play opens with Catherine involved in a conversation with her father. It is later revealed that he has recently died.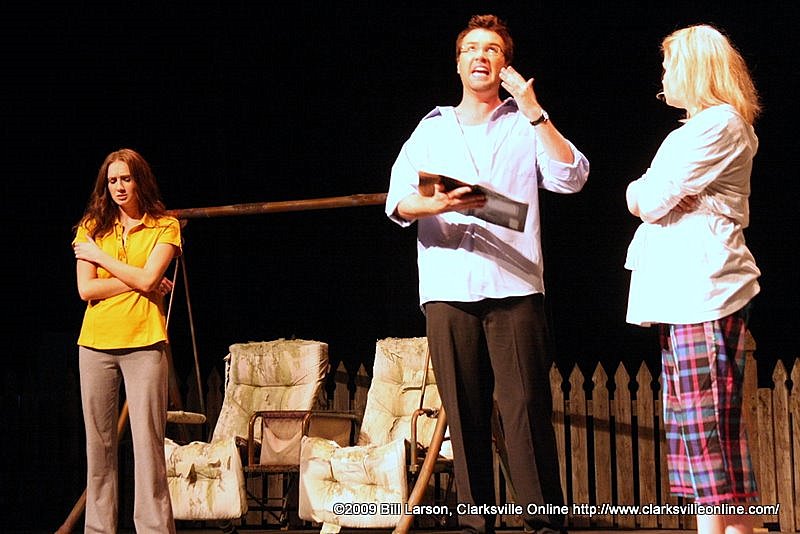 Hal, a young graduate student has come to the house to search through the professor's writings to see if he had produced any unpublished proofs before he died. When Hal gets ready to leave, Catherine demands to search through his possessions to ensure that he has not attempted to abscond with any of her fathers notebooks.
Catherine's sister Claire has come home for her fathers funeral. She worries that her sister cannot take care of herself and wants Catherine to return to New York with her.
My summary is intentionally abbreviated,  the play has a greater depth which is made clear by the summary from the program.
How can one write a play about math? Seems like an unlikely subject for a piece of theatre. Well, the answer to the question is you can't. Proof is as much about Math as Oklahoma! is about the Sooner state. Ultimately, plays are about people. More specifically, plays are about people in conflict, both external and internal. What attracted me so much to this play were the deep emotional struggles going on below the surface of the characters. Auburn's dialog with Proof is a beautiful sketch of a woman trying desperately for the first time in her life to take control of her life and her own volatile emotions in the wake of overwhelming sadness, tragedy, and intrusion. The resulting ink and what we hope you will witness tonight is funny, painful, awkward, harsh – in other words , the roller coaster we may have all experienced at some point in our life.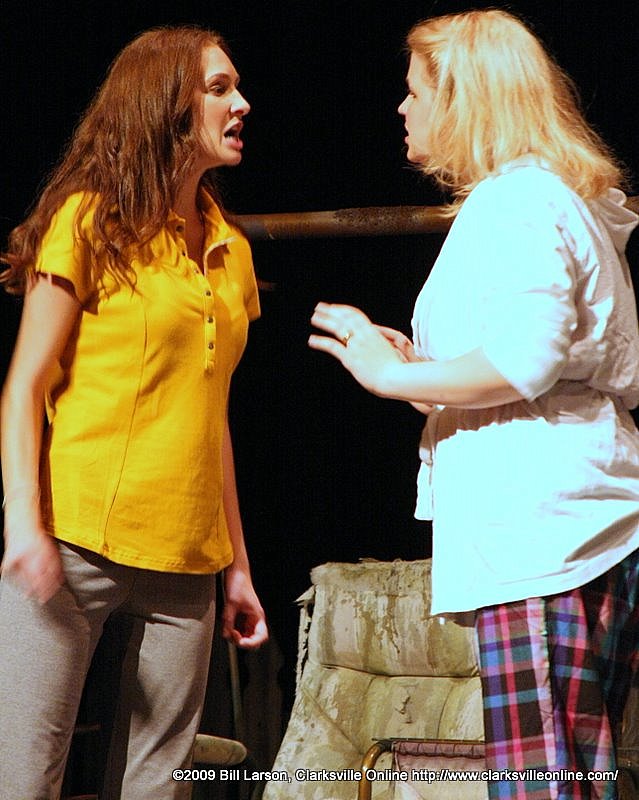 The cast is composed of Robert, played by William Sinclair; Catherine, played by Jolie Hausman; Hal, played by Bryce Conner; and Claire, played by Britney Jade Smith.
They may be students, but their acting was anything but. The emotions were raw and painted on the canvas of their faces. They bring their characters to life in a way which draws the audience in, as evidenced by the empathetic sounds coming from all around me during the play.
This was my first play at the Trahern, but it will certainly not be my last.
I also want to thank the staff for their assistance and cooperation, which made my job easy.