For artists living in the years between World War I and World War II, only one city mattered – Paris. Ernest Hemingway scribbled down short stories in its cafes. Pablo Picasso hurried down theChamps-Élysées with paint-stained fingers to make a dinner party.
The great figures of all artistic genres came and worked in the city. But what inspired them? Maybe it was the music, created by other artists seeking the inspiration provided by Paris.
That eclectic blend of music will be the focus of the next Dimensions New Music Series Concert, "Paris Between the Wars: 1919 – 1939." The free concert, which begins at 7:30 p.m. on Sept. 14 in the APSU Concert Hall, will feature works by a wide range of musicians swept up by the city's creativity.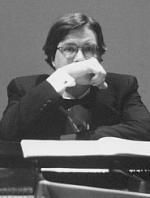 "Paris rebounded from World War I with frenetic jubilation and a burst of artistic creativity," Jeffrey Wood, APSU professor of music, said. "Young composers like Darius Milhaud, as well as more established names such as Maurice Ravel, were heavily influenced by the rise of American jazz.
"Other composers were experimenting with new harmonies and melodies in their music, and the juxtaposition of French composers with composers from the United States and as far away as Brazil made for a tremendously exciting and lively musical environment."
The evening's program will include music by Albert Roussel and Heitor Villa-Lobos, as well as major, jazz-inspired works by Ravel and Milhaud.
"The concert will feature APSU professors Emily Hanna Crane, violin, Lisa Vanarsdel, flute, Stanley Yates, guitar, pianists Patricia Halbeck and Jeffrey Wood, and the Gateway Chamber Ensemble performing Milhaud's ground breaking jazz ballet score 'The Creation of the World' under the direction of Gregory Wolynec," Wood said.
The concert is free and open to the public. The Dimensions New Music Series, sponsored by the APSU Center of Excellence for the Creative Arts, has brought free performances of contemporary and world music to the Clarksville area since 1980.
For information on the concert, contact Wood at 931-221-7819 or .