Sen. Roy Herron won the first Democratic straw poll in the race for Governor. The poll was held at the Grow Tennessee Dinner, hosted by the Rutherford County Democratic Party on Saturday in Murfreesboro.
"I think the election results reflect our hard work," Herron said. "I am humbled, grateful, and inspired to work harder than ever. This strong victory shows we can win."
Prior to the event, Jonathon Fagan, chairman of the Rutherford County Democratic Party, was quoted by the Murfreesboro Post as saying, "The candidate that wins this straw poll will send a strong message to the party, press and donors for weeks to come that they are a serious candidate to move our state forward."
Herron won decisively with 119 votes, 38 percent in a five-person contest. Full results are below:
Sen. Roy Herron – 119
Sen. Jim Kyle – 81
Kim McMillan – 58
Mike McWherter – 32
Ward Cammack – 13
Undecided – 12
At the event, Sen. Herron said his top three priorities are "jobs, jobs, and jobs," and the top three ways to get these jobs are "education, education, and education."
"Tennesseans share these priorities," Herron said. "Tennesseans want hard work, straight talk, and strong values."
Herron earned his reputation as a hard worker over his 22 years in the Tennessee legislature by holding over 1,000 listening meetings, perhaps more than any other Tennessee legislator. He has missed only one day of legislative session – the day his youngest son was being born. For fun, Herron runs marathons, and he has completed three 140.6-mile Ironman triathlons.
About Roy Herron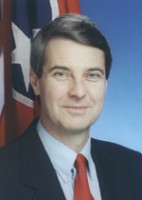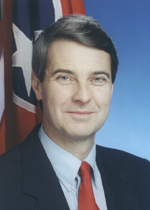 Roy Herron was first elected to the Tennessee House of Representatives in 1986. He has served in the state legislature for 22 years, including 12 years in the Senate, where he was Democratic Floor Leader and Democratic Caucus Chair. A small-town attorney, businessman, and former minister, Sen. Herron has also written three books, including God and Politics. He lives in Dresden with his wife of 22 years, Nancy. Soon his third son will join his father and brothers as an Eagle Scout, the seventh in their family.