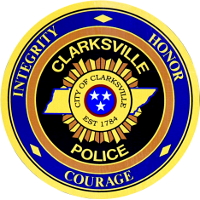 On September 27, 2009, around 7:23 a.m., Officers Jeff Derico and Richard Leese responded to an alarm activation at a Golf Club Lane business.  Upon arrival, they found the business had been broken into.  Lawn and  garden equipment and a computer and components were taken.  They reviewed a security video and saw a male carrying the stolen items from the building and the direction he headed.  Furthermore, they were able to identify the suspect as, ANTOINE CARDET SMITH.  Officers looked in the area in the direction where they saw Smith walking in the video; they found a computer sitting behind another business.  The officers briefly left the equipment to retrieve a camera to take photos of the stolen property.  When Officer Leese returned, he found SMITH trying to stuff the computer in a duffle bag.
ANTOINE CARDET SMITH (B/M, DOB:  6/28/70, Given Address:  210 Burch Rd, Clarksville, TN) was taken into custody and charged with BURGLARY and has a Bond of:  $5000.
The investigation is ongoing and the lead investigator is Detective Vince Duke, 931-648-0656, ext. 2211 or the TIPSLINE, 931-645-8477.