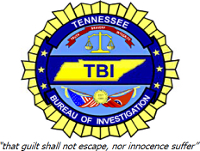 Nashville – A Clarksville man who was placed on the TBI's Top Ten Most Wanted list in August of 2009 was taken into custody today in Chicago, IL.
Dominick Shon Dre Hodges, 21, last known address 942 Vanleer Drive, Clarksville, TN was wanted by the Clarksville Police Department for First Degree Murder. The FBI Violent Crimes Task Force picked him up at an apartment on South Langley in Chicago, IL without incident. He was involved in a murder that occurred on July 22, 2009 at the A&W Motel on Madison Street. Hodges and an accomplice entered a motel room intending to rob the victim. The victim was shot during the robbery and died.
Hodges has a criminal history in Tennessee, Kentucky and Illinois including Rape of a Child and drug charges. He's being held in the Cook County Jail awaiting extradition.