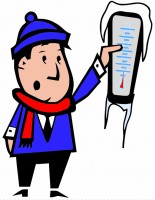 Winter is biting Clarksville Tennessee hard this week. We have had it relatively easy the past couple of years with minimal snow, and moderate temperatures but all that changed this year. The temperature today in Clarksville did not see above 30 all day and the projected temperature for this evening is in the single digits.
Prolonged cold can bring with it a myriad of issues from heating systems giving up the ghost to pipes bursting. A few things can be done to help reduce the chances that you become one of those 'left out in the cold' for lack of a better term:
Make sure that your air filters have been replaced to assist in positive airflow through the return. I would recommend having your unit serviced if you have not already done so (good to do each Spring and Fall)
Make sure that your thermostat is set at a temperature that does not leave you frigid, but also does not have your system working on overdrive.
For pipes it is a bit late to wonder whether or not the pipes in the basement or crawlspace are adequately insulated – chances are in this area the pipes themselves are not protected with insulation, however you can still take measures to reduce the risk of a busted pipe by making sure that a couple of your faucets indoors are left on a slow drip through the coldest part of the night.
Preferably use the faucet in the bathroom or utility room furthest from the water main inlet on your home. We actually have two or three left at a slow drip during these periods even though our pipes are well insulated. The cost of a few gallons of water far outweighs the cost of a plumber and possible water damage.
If you are using space heaters please ensure that you have a fire extinguisher in close proximity and please remember to turn them off when leaving the residence or retiring for the evening.
Lastly, for those of you who run gas heaters – make sure that your carbon monoxide detectors have fresh batteries.
I hope that some will find these tips helpful, and I wish everyone a pleasant winter's evening here in Clarksville Tennessee.