As I have said in the past, it's always a solemn occasion when a nation gathers to honor its soldiers, those who lived to come home, but even more importantly those who did not. Since ceremony last year, the remains of CWO Kenneth L. Stancil from Chattanooga along 3 other MIA's who died in the same Helicopter crash were found and returned to their families.  That leaves 32 remaining missing POW/MIA's from the State of Tennessee. Each one was honored in a ceremony held at Veterans Plaza in Clarksville Tennessee  on Sunday evening.
The Vietnam Veterans of America, Chapter 396 hold this Memorial Day Vigil each year to remember the men and women who were left behind in Vietnam when American forces left that country in 1975. The Local vigil was first held in 1989 the same year that Chapter 396 was chartered.  They consider it an honored duty to call the roll each year so that these lost bothers and sisters are not forgotten. The first reading contained 43 names on the roster, since then 11 remains have been returned the latest in April of 2010. This was their 21 year performing this solemn duty, and despite of a steady rain during the ceremony, they did not allow it to rush them. The colors were posted as an honor guard of Montgomery Central High School JROTC. Then a single chair representing all of the POW/MIA's nationwide was placed in a position of honor before the audience. The Pledge of Allegiance was recited, and a moment of silence was held. Then Rev. Jimmy Terry of delivered the invocation.
The guest speaker for this year as Former Clarksville Mayor Don Trotter.  Also on hand was Montgomery County Mayor Carolyn Bowers, Sheriff Norman Lewis,  State Rep. Joe Pitts and his wife Cindy.  Former State Senator Rosalind Kurita, & Former State Rep Kim McMillan.
Members of the Vietnam Veterans Motorcycle Club carried up each chair as the name of the MIA soldier it represented was called out. Once the chair was placed each one received a crisp salute, and a flame was lit..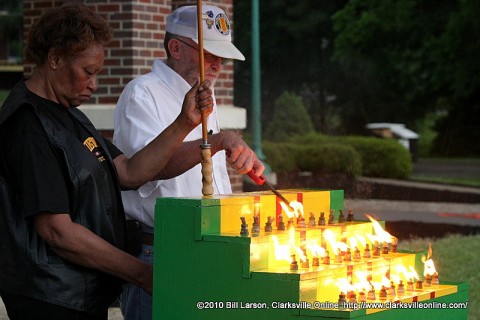 The Vietnam Veterans Chapter 203 of Chattanooga's Tennessee Vietnam Veterans Memorial Wall from has been setup for Memorial Day ceremonies down by the Health Department building at Veterans Plaza.The wall is intended as a place: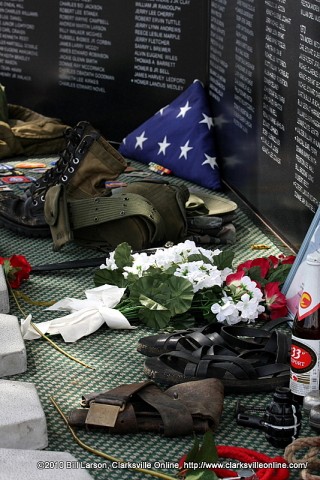 To Think

Of the way that things should have been

To remember

The way things were

To share

Private moments with fallen brothers

To pray

It will never happen again
Photo Gallery
The POW/MIA's
Below are the names of the missing Tennesseans. We offer our fervent hope that they too all find their way home once more.
Major Howard V. Andre Jr.
USAF
Memphis, TN
July 8th 1969
1st Lieutenant John R. Baldridge Jr.
USAF
Memphis, TN
November 20th 1969
Lance Corporal James A. Benton
USMC
Daisy, TN
April 27th 1967
Specialist 4th Class Dwight A. Bremmer
U.S. Army
Oakland, TN
December 14th 1971
Specialist 4th Class James A. Brown
U.S. Army
Humbolt, TN
August 12, 1970
Lieutenant Colonel Donald F. Casey
USAF
Chattanooga, TN
June 23rd 1968
Sergeant Echol W. Coalston Jr.
U.S. Army
Memphis, TN
January 21st 1968
Corporal James B. Conway
U.S. Army
Franklin, TN
April 13th 1966
1st Lieutenant Larry W. Cotton
USAF
Nashville, TN
March 9th 1970
Lieutenant Commander Carroll O. Crain Jr.
U.S. Navy
Memphis, TN
March 8th 1967
Lance Corporal Richard H. Dallas
USMC
Memphis, TN
April 27th 1967
Private First Class Joe L. Delong
U.S. Army
McMinnville, TN
May 18th 1967
Specialist 4th Class Billy J. Ellis
U.S. Army
Elizabethton, TN
January 3rd 1968
Sergeant Donald P. Gervais
U.S. Army
Clarksville, TN
May 1st 1968
1st Lieutenant Gary A. Glandon
USAF
Powell, TN
May 26th 1966
Seaman Apprentice Thomas A. Goetsch
U.S. Navy
Memphis, TN
September 17, 1972
Captain Lucius L. Heiskell
USAF
Memphis, TN
February 6th 1967
Specialist 4th Class Jerry A. Hiemer
U.S. Army
Memphis, TN
November 11th 1965
Private First Class James D. Hunter
U.S. Army
Portland, TN
October 29th 1968
Major Dale A. Johnson
USAF
Elizabethton, TN
November 27th 1966
1st Lieutenant Richard C. Lannom
USMC
Union City, TN
March 1st 1968
Captain William T. McPhail
U.S. Navy
Chattanooga, TN
May 22nd 1968
Petty Officer 1st Class James C. Newman Jr.
U.S. Navy
Knoxville, TN
February 6th 1968
Sergeant Calvin A. Norris
U.S. Army
Monterey, TN
November 3rd 1970
Specialist 4th Class Marvin E. Phillips
U.S. Army
Gruetli-Langer
September 26th 1966
Major Lawerence B. Tatum
U.S. Army
Chattanooga, TN
September 10th 1966
Lieutenant Colonel James A. Treece
USAF
Memphis, TN
October 7th 1966
Major Woodrow W. Vaden
USAF
Clarksville, TN
December 10th 1964
1st Lieutenant John T. Welshan
USAF
Oak Ridge, TN
March 3rd 1968
Colonel David R. Williams
USAF
Memphis, TN
April 1st 1967
Captain William C. Woods Jr.
USAF
Paris, TN
September 2nd 1972
Staff Sergeant Lawerence Woods
USAF
Clarksville, TN
October 24th 1964
About Bill Larson
Sections
News
Topics
Carolyn Bowers, Cindy Pitts, Don Trotter, Jimmy Terry, Joe Pitts, Kim McMillan, Memorial Day, Norman Lewis, POW/MIA, Rosalind Kurita, Veteran's Plaza, Vietnam Veterans, Vietnam Veterans of America